The Guyana Wrestling Association (GWA) concluded its first Wrestling Camp, held at the New Amsterdam Town Hall, the camp was an outline to wrestling participants.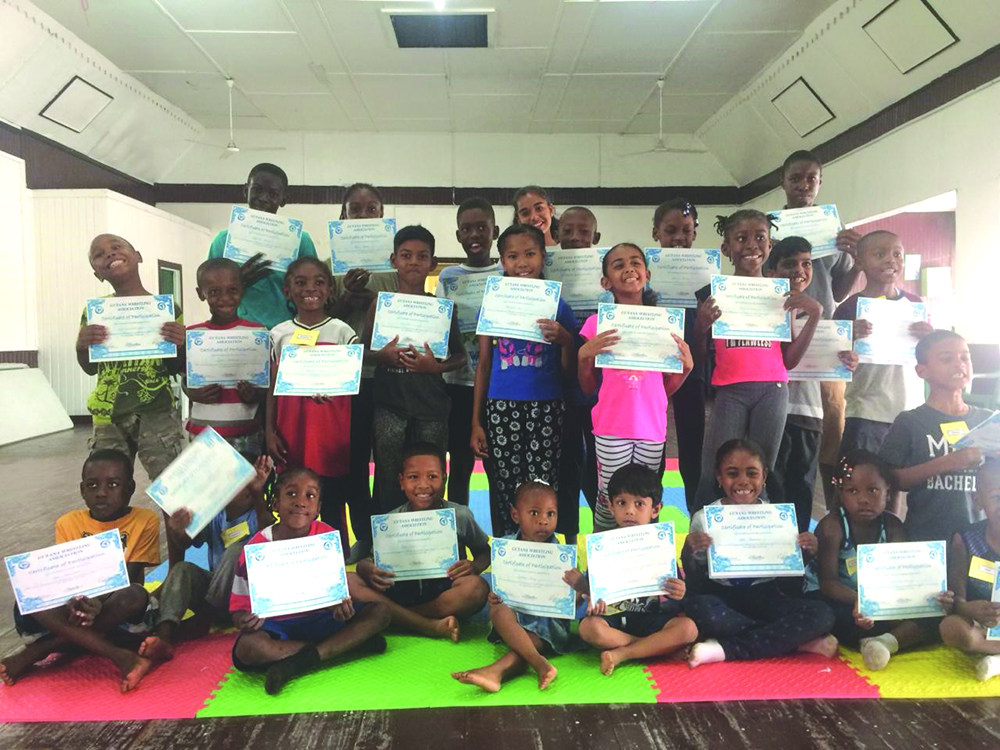 Over thirty persons participated in the camp ranging from the ages of four to seventeen. The participants had the opportunity to learn the basics of wrestling through games which incorporated the basics of wrestling and some basic moves which kept them engaged, excited and focus. The camp was an overall success, which was hosted by coordinator of the camp Kerryanne Edwards, Charles Johnson, Byron Lindie and Marcello Small, President of Guyana Wrestling Association.
The purpose of the camp is to sensitize parents and children about the sport of wrestling; its origin, technique, types and rules; and the many benefits of a wrestling athlete. This programme will be introduced to different parts of Guyana in the coming months and years.
The GWA has also set up its Inter-School Wrestling Committee in Region 6, and plans to have one in every Region in Guyana in the near future. These committees will oversee wrestling in the respective Regions.
The Association plans to have several other camps over the next following months as its plans to introduce in Guyana Greco Roman, Freestyle, Beach and Women Wrestling. Also Pankration a sporting event introduced into the Greek Olympic Games in 648 BC.
For future plans, the GWA wishes to have school and club tournaments, followed by the inter-school championship, followed by a national championship to select a national team, which will then represent Guyana in the international games.
The Guyana Amateur Wrestling Association extend much appreciation to J's Supermarket, Banks DIH LTD, J's Printery, Bob & Sons Variety Store, Chenick & Sons Supermarket, Candy Boss, Michael Khan, Mr. Jason Rose and Staff of Mayor & Town Council New Amsterdam.