– teams urged to be arrive early
Organisers of this year's Hamilton Green Cup Inter Ward/Village 9-a- side Knockout Football Tournament has identified Monday, May 27 as the new date for the final of the annual event.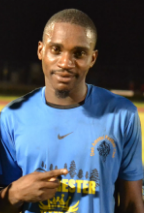 The final which was pushed back due to circumstances beyond the Organisers control will be played, at the Den Amstel ground, WestCoast Demerara and according to coordinator Lennox Arthur, they arebusy preparing to ensure that spectators have a great time throughout the day with action set to kick off at 15:00hrs with quarter-finals, semi- finals, before the final is played.
The opening salvo will see Timehri with players such as Seon David, Colwyn Cort and Sheldon Holder in their lineup take on Vreed-en-Hoop that will be spearheaded by Curtis Garraway, Trevon Abrams and Jamal Mounter.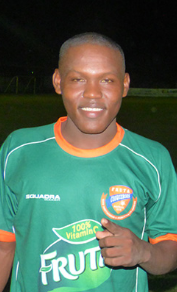 Tyrone Khan's Soesdyke then takes on De Kindren in what is anticipated to be an exciting affair. Khan will be supported by the likes of Delon Smith and Alvin Adams, while De Kindren's search for victory will depend on the services of Colin Henry, Steffon Coleman and Romel Medas.
Mocha and Liliendaal then square off in the next encounter with the Stewart brothers Orville and Dorville and Kevin expected to be in the former lineup, while Anthony Sancho, Otto Jones and Akeem Saul will lead the latter.
Pouderoyen will then engage Bagotsville in what is anticipated to be a scorching contest. Kevin Humphrey, Michael Thomas and Keron Boyce will lead Pouderoyen, while Corwin Wright, Mark Chester and Brian Fredericks will try to orchestrate a win for Bagotsville.
Anthony and Ashley Hardin and Maxwell Trapp will be the lynchpin for Goed Fortuin in their skirmish against Bourda Blues, who will have in their side the likes of Lenox Cort, Tevin Curry and Joshua Brathwaite. Sophia then go up against Mahaicony and while the former is highly favoured to win some pundits feel it will be an interesting clash. Peter and Ernie Smith and Jermaine Nedd will lead Sophia, while Delbert Wilson, Sheldon Toney and Bertie Shepherd are the key players for Mahaicony.
Host Den Amstel Back Street then collides with Charlestown and this encounter should bring out large home support. Den Amstel has a star-studded lineup that includes national player Delon Lanferman, Kevyn Murray, Kobe Kingston and Dwayne Wilson, while Charlestown can also boast of a similar potent lineup which will be led by Keiron Solomon, Jamal Cozier, Jermin Junor and Devon Charles.
The final game of the quarter-finals is between Uitvlugt and Zeelugt which no doubt will see the former heavily favoured to advance. National player Trayon Bobb, Jamaal Harvey and Seon Bobb will represent Uitvlugt, while Zeelugt have Avery Fraser, Dillon Schultz andJason Peters to rely on for victory.
Teams will be battling for a chance to claim the John Fernandes $300,000 first prize and Prime Minister trophy along with hampers from Ricks and Sari. The second placed team will take away the Courtney Benn sponsored $100,000, third $60,000 put up by Techno mills and fourth $40,000 donated by Ready Mix along with the respective trophies. All the trophies have been sponsored by Prime Minister Moses Nagamootoo.
Also at stake are the individual rewards for the Most Goals, who will take home a Dinette Chair from China Trading, while runner-up will be presented with a Lazy Boy chair from AH&L Kissoon, along with the Best Goalkeeper who will claim the Minister of Natural Resources trophy.
Among the sponsors so far are Techno mills, Ready mix, Sataur Gafoor, E.C Veira, BEV Enterprises, BK International, IPA, New Thriving, Ricks and Sari, E-Networks, Star Computers, NAMILCO, Cummings Electrical, National Sports Commission, Star Entertainment, Alfro Alphonso, the Guyana Police Force, GuyOil, Minister of State, Prime Minister and Ministry of Legal Affairs.