…after teacher allegedly lost laptop, protest erupts
…Education Ministry intervenes
Parents of students attending the New Diamond-Grove Primary School staged a protest outside the institution's compound on Wednesday, after a decision was taken by the head teacher to prohibit them from entering the facility.
Guyana Times understands that the ban on parents was imposed after a teacher reported that she allegedly lost her laptop sometime last week. On Friday, when parents turned up with their children, the guards were instructed to lock the gates and not allow the guardians into the compound.
This sparked a protest action on Monday, Tuesday and Wednesday as guardians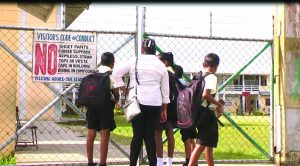 lined up in front of the East Bank Demerara (EBD) school, voicing their disapproval of the head teacher's decision. While the protest started on Monday, no intervention was made by the Education Ministry until Wednesday when Guyana Times and Evening News reporters turned up at the institution to give coverage of the parents' plight.
Trevor Singh stood in front of the school as he lamented, "What is happening here is that last week, the head teacher made the decision of closing the gate and not allowing the parents to enter the compound. Apparently, some teacher laptop was lost and she decided to close the gate. I have a kid that just come from kindergarten so they need this kind of propping, because the bigger children are taking some advantage."
Another parent commented that they were treated as the suspects in this case, which was unacceptable. Her child, who is in Grade One, needs attention and care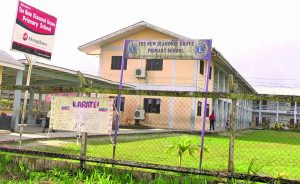 from an adult to adjust to the new environment.
"How can you accuse all the parents for one incident? That's a Police matter. We have some small kids that just come out of nursery. Parents have to take them to the washroom, make sure they get their food and take them to the canteen, because the older students are bullying them and taking away their money."
A parent also noted that there was a shed in front of the school where parents could wait for their children. However, they could not utilise the facility and were left with no choice, but to wait in the sun until classes were at recess or dismissed.
"Stopping us from entering the school is actually preventing us from taking care of the kids in this early stage. The mothers have to stand in the sun and there is a shed in front where they can wait," the parent said.
Disturbed parents claimed that the head teacher has been oblivious to their concerns. It was indicated that any meeting convened by the head teacher would not be attended since they were not welcome at the institution.
"If they ever have a meeting, then she would have to come outside here and meet us, because we aren't allowed to go inside. I think this is very unprofessional of a head teacher to make a decision like that, because she should have been more tactical and diplomatic in terms of calling the parents about the situation. She is putting us in the same domain as the person who stole the laptop."
Meanwhile, when this publication visited the school on Wednesday, the security frantically rushed to the administrative office before returning to her post.
This newspaper was told by an official from the Education Ministry that the matter was reported to the Ministry on Wednesday. This led to an intervention and parents are now being allowed to enter the compound and wait under the shed for their children.