Healthcare professionals attached to the Linden Hospital Complex (LHC) in Region 10 (Upper Demerara-Berbice) have benefited from a two-day practical training workshop titled, "Helping Babies Breathe".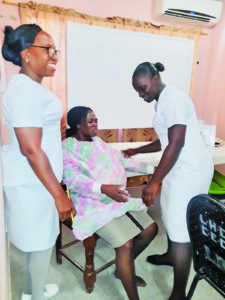 The workshop, which was facilitated by the Bridges Global Medical Mission, is one endorsed by the American Academy of Paediatrics with the aim of significantly reducing neonatal deaths.
Facilitated by Neonatal and Perinatal Specialists Dr Yanick Vibert and Dr Folasade Kehinde, the exercise saw nurses attached to the hospital's Neonatal Intensive Care Unit, Maternity and Paediatric Wards as well as midwives benefiting.
According to Dr Kehinde, around the world, babies are most vulnerable the first 28 days of life or at birth and 90 per cent of those deaths usually occur within the first 24 hours.
Hence, she pointed to the significance of the training exercise. The "Helping Babies Breathe" programme is one which prepares health-care workers to deal with complications which may arise immediately after the birth of an infant.
During the exercise, health-care professionals were educated on the correct methods of suction and resuscitation of newborns. Dr Kehinde highlighted that the professionals were also trained on how to effectively utilise minimum resources.
"What we are here to do is help (health-care workers) to learn how to take care of babies when we do not have so many resources to help them to survive. Not just the delivery of the baby, but the first 24 hours and first 28 days of life," she explained.
It was noted that since the introduction of the programme, some studies have shown significant reduction in deaths among babies with the intervention of the Helping Babies Breathe (HBB) techniques at birth.
As such, the Pan-American Health Organisation/World Health Organisation (PAHO/WHO) and the Latin American and Caribbean Neonatal Alliance are supporting the Public Health Ministry in the start-up of the national HBB programme in Guyana. The initiative, which has been in existence since 2010, has since been implemented in several countries in Latin America, the Caribbean, and other parts of the world.