…in protest over Granger's "power grab"
A majority of the Hindu organisations throughout the country have called off their Annual Holi celebrations in light of the present political atmosphere which preceded the March 2 Regional and National elections.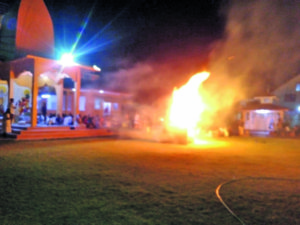 The Guyana Hindu Dharmic Sabha took to its Facebook page on Sunday to inform persons that its annual Holi Utsav which was planned for Phagwah celebrations today at the Everest Ground has been cancelled.
When contacted, President of the Dharmic Sabha, Dr Vindhya Persaud further elaborated that her organisation has decided to cancel this event due to the tension in the country post-elections.
But according to her, even though these public events have been cancelled, persons should still partake in the Holi festivities because of its significance to Hindus and its strides made in unifying Guyanese.
"It is unfortunate that with the current climate that it cannot be celebrated in this way but we're very conscious of what is happening now across the country and in specific areas, so we've taken that decision as an organisation…we want as much as possible that our people do not feel as if the festival has been removed from them so they will be able to play Phagwah but we ask that they do it in the right spirit," she posited.
Dr Persaud referenced a statement posted on the organisation's Facebook page, which reminded of the holiday's true meaning. This she reiterated to Hindus and other religions who participate in the celebrations.
Similar views were expressed by founder of Inspired Inc and member of the Arya Samaj, Jog Mahadeo when he spoke to Guyana Times on Sunday.
Mahadeo pointed out that these cancellations are in the best interest of everyone's safety especially for those who travel from across Guyana to celebrate the religious holiday.
"We're concerned that persons would come to the event and that they going home, traffic would build up on the road and we have been calling on people to stay home and be safe and don't come out on the street…So we felt that in the interest of everyone's safety maybe we should postpone or cancel the festival."
Phagwah or Holi signifies the triumph of good over evil, and should be celebrated with the right spirit. However, with the intense hatred vented on social media and physically between the supporters of the two major political parties, Mahadeo expressed concern while noting that this too affects Holi celebrations.
"I'm very concerned that there's so much hate ongoing, I don't care what is the current leaning for anybody whichever political party you wanna back please back but we do not need to hate each other, so I'm concerned that the hate can also affect our celebration. Phagwah is not about hate, it's about overcoming hate," he stated.
In addition, Pujya Swami Aksharanandaji of the Saraswati Vidya Niketan on the West Coast of Demerara has confirmed that over 108 mandirs across the country will not be celebrating the festival on Monday while several organisations including the Pandits Council have also cancelled their celebrations.
Pandit Ravi Persaud of Viraat Sabha stated that Hindus and other well-wishers will participate in the occasion as a symbol of victory.
"Phagwah signifies the conquering of (adharma) unrighteousness. The story of dictator Hiranyakashipu and Bhakta Prahalaad must not be ignored. Our memories are refreshed by the recent assault on democracy by the deceitful GECOM and associates," he added.
He further stated that democracy is lying on a bed of arrows that is dying rapidly and very little is being done to resuscitate it.
"The Viraat Sabha Guyana is calling on the Hindu community to pay more attention to what is transpiring in our country and act accordingly. Hindus and other supporters of dharma should use the occasion to pray and reflect."
Further, Persaud noted that the Sabha is calling on Hindu families to avoid joyful celebration until adharma is defeated and democracy is restored.
Holi, the Festival of Colours, which symbolises the triumph of good over evil is celebrated to usher in spring.
On Thursday thousands of persons gathered at Lusignan to join the countrywide protest against the unlawful act by the Region Four (Demerara-Mahaica) Returning Officer to declare unverified results for the district.
However, things took a turn for the worse as shots of rubber pellets rang out while pro-democracy protesters were voicing their concerns. Some seven persons were shot while some were arrested, resulting in mass chaos.
Roads along the East Coast of Demerara were blocked with burning tires as glass bottles were hurled into the air. Ranks of the Guyana Police Force bolstered themselves in the middle of the roadway, using force to get people into their homes as the methods of maintaining order and peace failed.