Chemical plant construction
…as US-based company hosts consultation
Geared at answering questions and concerns of residents of Houston, Greater Georgetown who were outraged when United States-based company, Nalco Champion Inc, had commenced the construction of a chemical warehousing facility at John Fernandes Ltd, Inland Terminal at 4055 Industrial Site, Ruimveldt, Georgetown, the company on Tuesday held consultations with the residents.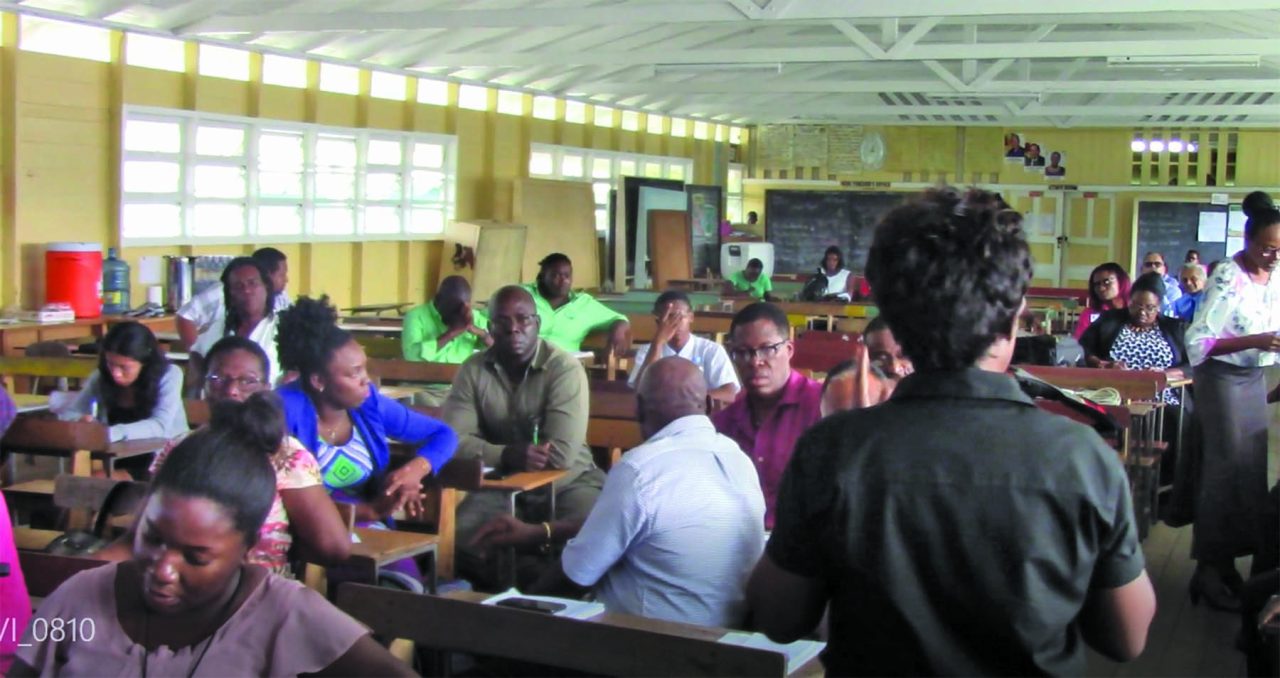 The consultation is part of an Environmental Impact Assessment (EIA) being carried out by the Environmental Protection Agency (EPA) to ensure the safety of the project, where residents were given an opportunity to make submission of questions that they would like addressed.
Nalco Champion Guyana's Country Manager, Keith Hicks, and Project Manager, Willy Miller, held a 20-minute visual discourse where they attempted to alleviate concerns of the residents.
The residents were shown videos of several other similar plants constructed in residential areas— one of such being in Houston, Texas. Some 12 similar chemical plants of the company are said to have been constructed in areas where people reside.
"My point for sharing this information with you is because this is one of the major manufacturing facilities that we have that we blend and truly mix chemicals and then we ship 'em to different areas in the US… there will be no blending, there will be no reactions, there will be no storage tanks as far as the permanent storage tanks, no barrel tanks, no breakers, no fumes, no reactions, no heat, no vapors, no emissions, so if there is one point I want to make clear, our intent for what we would be doing here is not like what we are doing in Sugarland (Houston, Texas facility)," Hicks shared.
According to Hicks, other sites were inspected beside the John Fernandez property; however, the Ruimveldt location was the only one that met the criteria for safety.
Representative from John Fernandes, Phillip Fernandes, who was present at the consultations, and who concurred with the Nalco rep, stated "we think that it is a safe enough activity, it is far away from everyone, but it is not our decision to make, we are awaiting the response from the relevant authority because we don't want to endanger anyone, we all want the something".
Residents, however, still questioned the legality and management of the project and further questioned about risks and compensation plans should there be a chemical leak or spill.
In answering the questions of legality, a Central Planning and Housing Authority (CH&PA) representative revealed that the said land was zoned in 2014 and an application was since approved for the construction of such a facility. Concerns regarding compensation was however left unanswered.
Construction activities were halted at the facility amid the concerns raised by the residents.
Residents have over the past week expressed fears about the project, including possible contamination of surrounding water sources.
Guyana Times published a previous report where residents claimed that they were not consulted before the decision was made to set up the facility.
"We are aware that Nalco has an interest in putting up a chemical facility at the John Fernandes inland terminal. We have a number of issues with respect to having a chemical facility in an area where you have residents".
"There are a number of chemicals that will be housed at that facility. You have Xylene, emulsion breaker, asphalt inhibitors among others. We don't know the severity of these chemicals. Furthermore, they said they will have a lab there. Williams questioned what could be the purpose of a lab at the location and whether the United States-based company planned to start mixing chemicals. In addition, Williams claimed that Nalco does not have a comprehensive emergency plan. As a consequence, she said, the community at large is in danger".
The residents emphasised that not only is the plant hazardous to them, but can have a ripple effect on the whole city. Beside the danger to residents, Private Sector Commission (PSC) Executive and resident Ramesh Dookhoo noted the danger a chemical spill could pose to other businesses.
The facility would service ExxonMobil's Floating Production Storage and Offloading (FPSO) vessel during oil production.