– GYD$10M in costs to gain legal certificate, students meet with AG
By Jarryl Bryan
Guyanese law students have welcomed the move to provide scholarships for them to be able to study at the Hugh Wooding Law School in Trinidad and Tobago, given the fact that students are buckling under the costs charged by the institution as well as the sheer cost of living.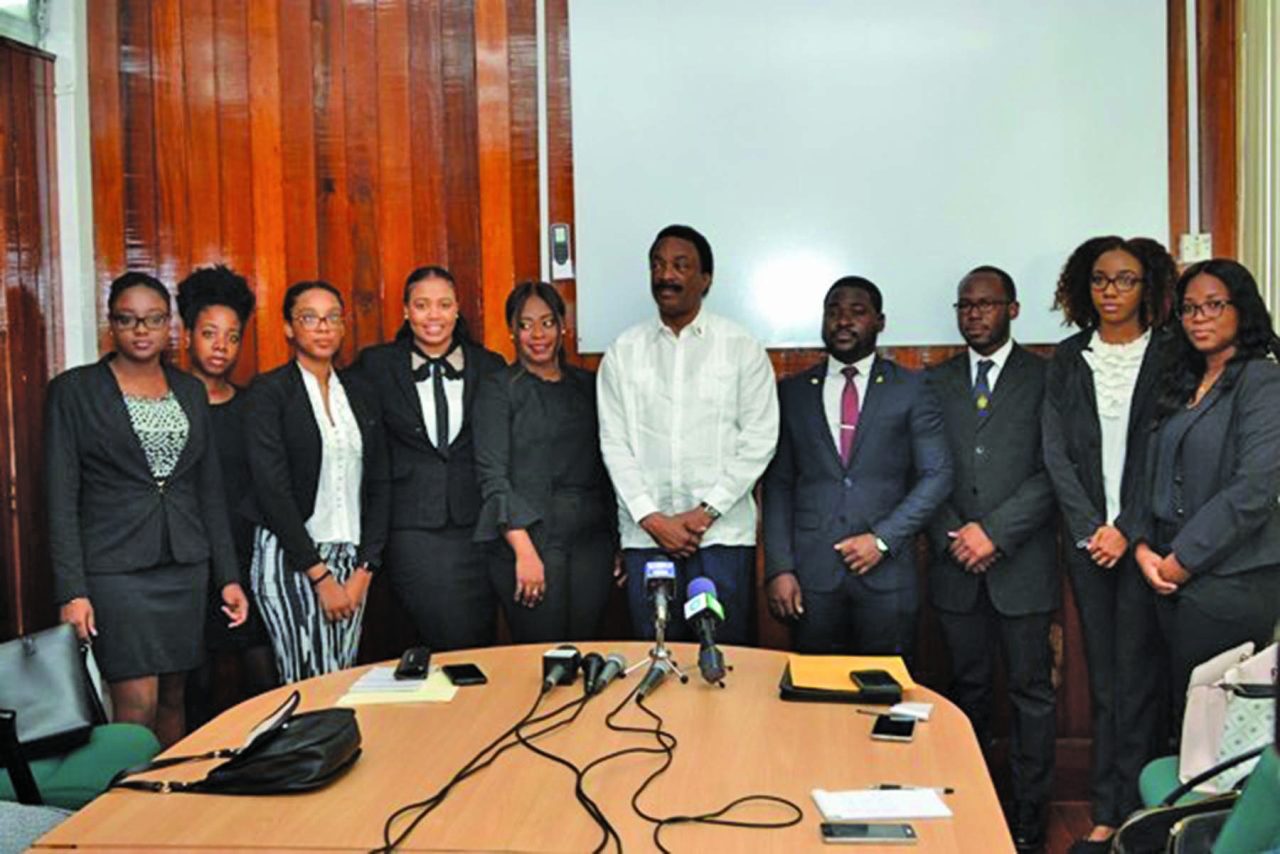 A delegation met with Attorney General Basil Williams on Tuesday, where Vice President of the Guyanese Jurisdiction Committee, Olivia Bess, laid out the conditions under which aspiring lawyers have to study in Trinidad.
According to Bess, these students still have to find money for food— costs she estimates to be close to $100,000 in Guyana currency. In addition, there are also the costs of living accommodation.
"We requested a meeting with the Attorney General because we as Guyanese students in Trinidad suffer a lot of financial difficulties in relation to our tuition fees, living expenses, food, etc. For example, the tuition fee has increased for the first years. It is no longer TT$98,366. It is now TT$101,066. When you exchange that to Guyana dollars, that would be GYD$3 Million".
"That's just the first-year tuition fee. Added to that, you also have living expenses. The average Guyana student in Trinidad would pay around TT$3000. When you convert that, that would be around GYD$90,000 a month. And you still have to send it through the bank or Western Union and these places will add on their own rates".
In terms of food, Bess noted that the average student will spend between TT$1500 to TT$2000 on a monthly basis. She explained that this translates to them spending between $45,000 to $60,000.
"So, when you total all the expenses for one year, it is nothing less than $5 Million. That is just per year. It is two years so you have $10 Million. So, it's not easy for the Guyanese students in Trinidad to function properly or study properly, even though we do perform well. But it's not an easy task".
"We have to think about our parents, our guardians, how are they going to find that money? I know countless students who cried because they could not find that money to pay for Hugh Wooding law school. It's not an easy task".
Scholarships
Bess was accompanied by students holding their Bachelors in Law from the University of Guyana, as well as students already enrolled at the Hugh Wooding Law School. The Legal Affairs Ministry had announced that full scholarships to study law for the 2019/2020 year at Hugh Wooding were available.
This came after reports that the Ministry's finance secretary failed to cover expenses for students. Attorney General Basil Williams criticised the staff who was responsible for sending money for the students in Trinidad but didn't.
Williams noted that once that money was approved by Cabinet, it ought to have been disbursed. He thus distanced himself from the decision to withhold the funds, noting that when budgeted sums are passed in Parliament then they are meant to be spent.
He noted that while the staff should have been sent on administrative leave pending a hearing, she's still on the job. Moving forward, the AG hinted that Government could go ahead with building its own law school, while acquiring Council of Legal Education approval afterwards.
Stiff competition
Currently, law students at the University of Guyana complete the Bachelor of Law (LLB) programme after which the top 25 graduates are granted entry annually into the Hugh Wooding Law School to get their LEC.
However, in recent years, Guyanese students in Trinidad have been complaining bitterly about the system, particularly the limited intake when the law classes at UG are packed with close to 100 students.
Additionally, they also complained about the high cost of obtaining the LEC, which is pegged at more than $3 million, and this excludes education materials, accommodation and daily expenses such as food and transportation.
The requirements for eligibility for the limited scholarships being offered by the Department of Public Service include: being the holder of the Bachelor of Laws Degree, with a minimum Grade Point Average (GPA) of 3.3, obtained within the last five years.
Applicants must be 35 years old or under, and must have an offer of acceptance from the Hugh Wooding Law School for the 2019-2020 academic year. Present students at the Hugh Wooding Law School must have passes for the first year of studies with at least three courses passes with Grade A.
Over the years, the need for a local law school has been excessively highlighted and as such, Government has undertaken to step up such an institution here in a joint venture with Jamaican partners.