Body in shallow grave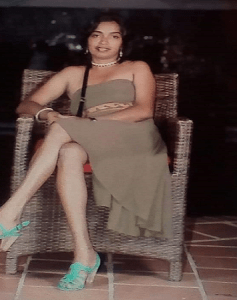 The husband of 37-year-old Zaila Sugrim, whose body was discovered on Tuesday in a shallow grave at Crane, West Coast Demerara (WCD), has confessed that he shot his wife to the head and then set her body on fire before burying it.
In his confession to Police on Tuesday, the businessman detailed how he killed his estranged wife. Sugrim's body was found on a property near her husband's home after she was reported missing on Saturday last.
On Tuesday, Police swooped down on the businessman after they received information that he picked up his estranged wife at Vreed-en-Hoop, West Coast Demerara, and that was the last time she was seen alive. Investigators made a major breakthrough after an examination of the man's car revealed blood in the trunk.
Speaking with Guyana Times, Sugrim's borther, Ahmad Haniff, said his sister was burnt beyond recognition. Sugrim went missing on Saturday after she left her brother's Golden Grove, East Bank Demerara (EBD) home to be picked up by her estranged husband at the Vreed-en-Hoop Stelling.
The mother of five was reportedly visiting her estranged husband's home to celebrate one of their children's birthday. However that was the last time she was seen alive.
Relatives told this newspaper that Sugrim suffered 15 years of abuse at the hands of her husband and was forced to stay away from her relatives.
In 2018, Sugrim had finally mustered up the courage to leave her husband, the owner of a gas station, which is located in front of the house where they lived and a stone throw away from where her body was found.
Relatives said Sugrim's decision to leave her husband was made following a severe beating, which left her hospitalised. After contacting her family after years of no communication, Sugrim took the suspect to court where he was charged for unlawfully and maliciously causing her bodily harm.
However, after informing the court that he was the sole breadwinner for his family, he was released on bail was ordered to not go within 100 feet of the now dead woman.
On Thursday last, Sugrim's brother said his sister had visited the suspect's home where she spent time with her children. That visitation was without incident and as such, Haniff noted that his sister informed him that she was going over again on Saturday.
However, the family became worried when several calls placed to Sugrim's phone on Saturday evening went unanswered.
As such, on Sunday morning, a report was made at the Diamond Police Station. After relatives made additional reports on Monday at the said Police Station, a group of ranks swooped down on the suspect's home.
After much interrogation, the suspect finally broke down and confessed that he indeed killed his estranged wife and led Police to where he buried her body.