By Akeem Greene
Barbados Trident's new recruit Christopher Barnwell is anxiously awaiting his chance to face former teammates of the Guyana Amazon Warriors when the two sides meet in match 15 of the 2017 Hero Caribbean Premier League (CPL) on Sunday August 20 at the National Stadium, Providence.
"It will be a mixed feeling when I return to play the Guyana Amazon Warriors on the 20th [of August]. That is a game I am looking forward to. I have been preparing mentally and physically for that game", the all-rounder told Guyana Times Sport in an exclusive interview on Friday.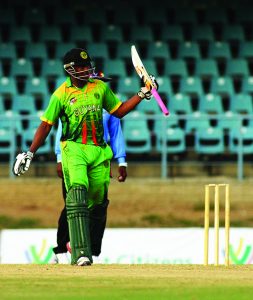 He continued, "I will be going in the visiting dressing room for the first time to play against Guyana it is going to be a good feeling and a sad feeling but I have to go out and forget about that and just enjoy the game of cricket".
CPL enters its fifth year and this will be the first time, the player will be churning out his skills for a different franchise in the tournament since he was overlooked by the Warriors at the players' draft in March but managed to fetch of $ 10,000 USD on his way to the Tridents.
The new feeling of having to play against a country he has represented throughout his age group cricket is still yet to sink in for the player.
"It is a new franchise, new environment. I have been cricket since the under-19 level for Guyana and it is one colour I knew about, yellow and green other than playing for the Royal Challengers Bangalore and the West Indies. moving to the blue and yellow will be quite a new feeling".
After 41 matches in the league, he has high score of 37 and strike of 123.0. He has bowled in 11 matches collecting 7 wickets and having an economy rate of 10.7. His lowest point was in 2016, where he only managed to score 68 runs from 11 matches. More so at the recent Cricket West Indies player's draft for the Regional Super 50 and First Class season he was not selected by any of the six franchises, which makes this year's league one where much will be desired of the player.
"It is not a matter of me proving a point, it just for me to go out and play good cricket and play the cricket people expect me to play. Since 2015 I was not at my best picking up a back injury and struggled from there but now I'm going back and play positive cricket , the type that helped me play for the West Indies and play those kind of innings to help my franchise win", the 30 year-old disclosed.
Batting Higher
Throughout his years in senior cricket, the pugnacious right-handed batsman was used a 'finisher' by teams due to his power hitting ability. However, he started his career at the top of the order, where he has much success. Two most memorable moments would his 49-ball 88 which carried helped Guyana defeat Jamaica and reach the Caribbean T20 final in 2013 and his 61 not out from 36 balls against Leeward Islands. On both occasions he batted in the top four.
"I still think that is my best strength, batting high in the order, from 1to 4, that is where I play best cricket but over the years Guyana have seen me as a finisher and I try my best to finish games for them if not or set it up when be batting first but I feel batting one to four I can do my best", the Demerara Cricket Club player contended.
Barnwell is eager to share the dressing from captain Keiron Pollard who he believes can help bring the best out of him and is buoyed about the prospects of the damage the duo can inflict.
"I was not the 'go-to' person with the ball for the Amazon Warriors but I know moving to Trident with [Keiron] Pollard will be good, he is someone that always backs my ability in bowling and batting and will help me get more into the game. He is a very good captain, he knows how to get the best out of his players and I think it is going to be a good environment for me", he added.
A new chapter
Life has not only changed for the cricketer in regard his alliances but he is also newly wed to Dionne and will soon be a father.
"We have been together so long since school days so there won't be much change balancing a life with cricket. I will be a father soon and that is something to I'm looking forward".
Regarding his new franchise he stated, "there is a lot of Guyanese in Barbados. And a lot will be out to support the Amazon Warriors but I still have my cricket to go out and play and give my best of my ability for my new franchise
Whether they cheer for me or they boo me I still have to gout and play my game and help the tridents to win that game".
Barnwell will be departing these shores today for encampment ahead of the Trident's first match on August 5 against Jamaica Tallawahs.
Barbados Trident Squad: Keiron Pollard (Captain) Kane Williamson, Shoaib Malik, Dwayne Smith, Nicolas Pooran, Wayne Parnell, Ravi Rampaul, Wahab Riaz, Raymon Reifer, Christopher Barnwell, Imran Khan, Damian Jacobs, Akeal Hosein, Ryan Wiggins, Tino Best, Shamar Springer, Akeem Dolton.