– 40 new cases detected Sunday
– 40,000 persons to be vaccinated this week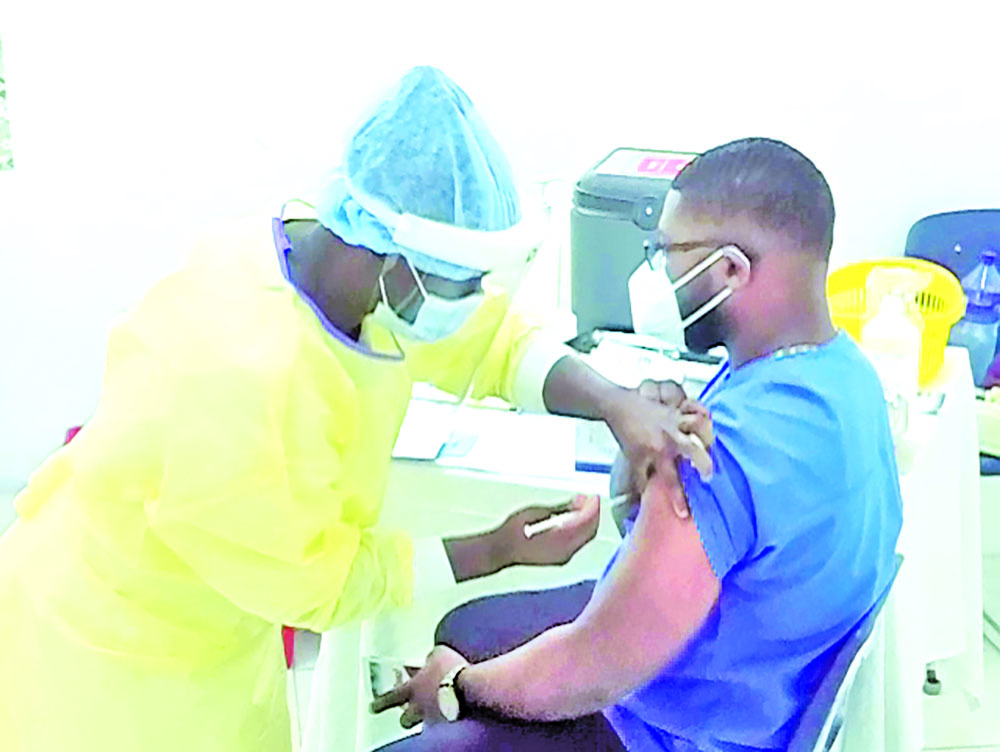 Guyana recorded its first COVID-19 death on March 25, 2020 and in one year, a total of 218 persons fell victim of the deadly virus. But then, within 10 days in the second year, a staggering 25 deaths were recorded thus taking the death toll to a whopping 243.
In the past three days, 10 persons succumbed while receiving treatment at various medical facilities.
In fact, the Health Ministry has reported that six persons – four males and two females – died on Saturday, April 3, 2021. These include a 28-year-old from Region Two (Pomeroon-Supenaam); an 81-year-old from Region Seven (Cuyuni-Mazaruni); a 73-year-old from Region Six (East Berbice-Corentyne), and a 62-year-old from Region Four (Demerara-Mahaica) along with the two females, an 83-year-old and a 52-year-old – both from Demerara-Mahaica.
It was reported that on Friday, April 2, a 45-year-old female from Region Five (Mahaica-Berbice) and a 26-year-old male from Region Three (Essequibo Islands-West Demerara) also died. Two other persons, both males – a 62-year-old from Region Three and a 45-year-old from Region Four – died on Thursday, April 1.
These 10 deaths were all recorded within the first four days of the month of April. In March, some 36 persons who tested positive for the novel coronavirus died, thus making it the second deadliest month since the virus surfaced in Guyana. The deadliest month was September 2020 with 38 fatalities.
The total number of confirmed COVID-19 cases in Guyana has gone up to 10,580 as of Sunday. This is after 40 more persons tested positive for the virus from some 928 tests that were conducted within a 24-hour period.
Active cases in the country are now 1161 with 12 of them being patients in the COVID-19 Intensive Care Unit (ICU) and the remaining 1149 persons in isolation, that is, 74 in institutional isolation and the other 1075 in home isolation.
There are also 10 persons in institutional quarantine.
While the COVID-19 death toll continues to climb, the number of persons who have recovered from the life-threatening disease has also increased. A total of 9250 persons have recovered to date – 35 more recoveries than the figure reported the previous day.
Guyana has thus far tested some 93,465 persons for the novel coronavirus, of which 5402 males and 5178 females were found to be positive.
Of the 40 new cases detected on Sunday, one was from Pomeroon-Supenaam, a whopping 21 cases from Region Four, eight from East Berbice-Corentyne; nine from Region Seven and one case from Region 10 (Upper Demerara-Berbice).
The figures in the other five regions remained the same.
Meanwhile, in order to curb the spread of the virus and reduce the country's death toll, Guyana continues to aggressively roll out its vaccination campaign.
According to the Health Ministry on Sunday, since the exercise commenced in February, some 40,468 COVID-19 vaccines have been administered across the country including several second doses.
Last week, Guyana surpassed 3000 vaccinations in a day on three occasions. The highest number of vaccinations were recorded in the three largest populated regions — Demerara-Mahaica, East Berbice-Corentyne and Essequibo Islands-West Demerara, respectively.
The least numbers were recorded in Region Eight (Potaro-Siparuni), followed by Region 10 and Region Nine (Upper Takutu-Upper Essequibo). Only these three regions have recorded less than 1000 vaccinations so far.
Nevertheless, the Ministry is looking to ramp up the vaccine rollout and has set a target of 40,000 first dose jabs to be administered along with several hundreds of the second dose. As such, more than 100 fixed-site and mobile teams will be administering first and second doses of the vaccine starting on Tuesday, April 6.
Persons who are 40 years and older are eligible to receive the jab. These include all health workers, teachers, members of the Joint Services, public servants as well as Private Sector employees.
So far, Guyana has received 3000 doses of the AstraZeneca vaccine from Barbados, another 80,000 doses of the same vaccine from India and 20,000 doses of Sinopharm from China.
More recently, the country received its first tranche of COVID-19 vaccines from the COVAX facility – 24,000 doses of AstraZeneca, and then 25,000 doses of the Sputnik V vaccine, which Government purchased through the United Arab Emirates (UAE), from Russia. This batch of the Russia-manufactured jab is part of a 200,000 order Guyana has made to the tune of US$4 million.