By Clifton Ross
Cricket West Indies (CWI) recently made a good step towards ensuring that players reach their optimal fitness level by enforcing stiffer assessments and more rigorous training sessions which will be used as the criteria for international selection.
Recently, CWI Head of Sports Medicine & Science, Dr Oba Gulston confirmed that statics showed the level of fitness around the Region increased significantly by 30 per cent. The increase seems to be a result of the increased amount of training sessions and physical assessments that players are forced to undergo both on and off-season.
With the proverbial benchmark seemingly increasing every year, players will now be tasked with besting the dreaded Yo-Yo Endurance Test, following a strong recommendation from the CWI Medicine and Science team. Similar to a Beep Test, a Yo-Yo endurance tests players' stamina and endurance as they run back and forth from specific checkpoints as the Yo-Yo test counts on; leaving the fittest players standing after minutes or hours if possible of running.
The test consists of a commonly used durability metric method developed in Denmark by soccer physiologist Dr Jens Bangsbo. Overall, the objective of the Yo-Yo is to evaluate athletes' aerobic endurance fitness levels collectively or individually.
The local team Guyana Jaguars have been known to have a number of Beep and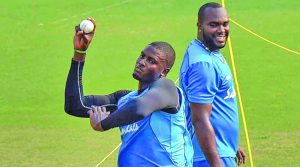 Yo-yo exams within a year; a true testament to their success as they have since managed to win the Regional 4-Day titles four years on the trod. Also, local players have gotten stronger and more durable as injuries rarely yet never occur and if they do, players are not sidelined for indefinite periods.
Another key reason behind the possible pluses of the increased fitness programme is that it will benefit the large number of players from the Caribbean who have careers as T20 Guns for hire within the franchise cricket world. Guyana recently saw three of their brightest prospects within the Jaguars and West Indies Senior team: Keemo Paul, Sherfane Rutherford and Shimron Hetmyer bagging lucrative IPL contracts for the 2019 season.
Apart from the trio, a large number of players the likes of seniors Chris Gayle, Andre Russell and Darren Bravo are established T20 franchise players while new-comers like Nicholas Pooran, Rutherford, Oshane Thomas and the many more are still young and will need the additional gym time and training sessions to help buff their physiology while keeping their bodies strong enough to withstand the immense yearly schedules that players usually are given these days.
Also, the main prize in the eyes of the CWI is the 50-Overs World Cup trophy, a piece of silverware that has eluded them for decades ever since their domination in the 'West Indies glory days'. While the Caribbean side is lowly ranked in ODI cricket, their passion and desire to prove to the world they are still capable of being a force in ODI cricket was exhibited last year during the WC qualifiers where they lost to Bangladesh in the finals.
The premier tourney will be staged in the tough English conditions and CWI has begun its road to ensuring that those on the frontline and those on the radar are kept in the best of condition ahead of the Cup. Notwithstanding the busy schedule of Caribbean players who are the foremost sought-after franchise players in contemporary times, the new system is likely to unearth a whole new level of fitness going forward; further strengthening the Caribbean's reputation in the world of cricket.