GAPLF's Novices/Juniors National Championships and Qualifiers
By Timothy Jaikarran
If Carlos "The Show Stopper" Peterson-Griffith is not at the Guyana Amateur Power Lifting Federation's National Championships and Qualifiers – where even the novices and juniors would be present to showcase their robustness and vitality – then I dare say the fans need not bother themselves to check out those proceedings.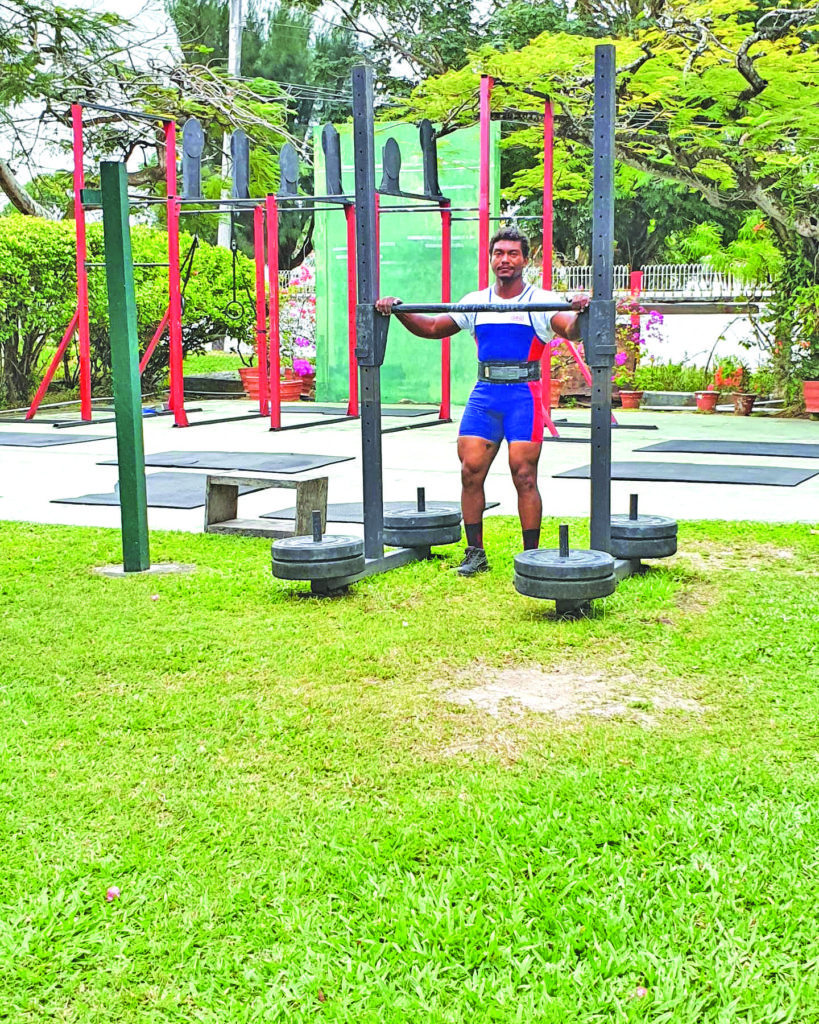 A "show of strength competition" isn't truly such a competition without the presence of "strongman" Carlos. When he arrives on the scene, competitors find their task cut out for them, as records are broken and a serious test of strength gets underway.
This Sunday, April 25th 2021, Peterson-Griffith will be competing in the Guyana Amateur Powerlifting Federation's (GAPLF's), Novices/Juniors National Championships and Qualifiers at Saint Stanislaus College on Brickdam, Georgetown.
Speaking with this publication, Peterson-Griffith shared that he is itching for action as the competition approaches. Asked what it feels like to buckle up after a lengthy period away from competition, Peterson-Griffith said, "Getting back in competition? Since I know myself in the strength and power sports, I've been competing with the man in the mirror! However, from then to now (during suspension and after), I've been working and training as hard as ever…not just for a local competition, but more so for the International Championships!
"The road to becoming a world champion is not that easy, because there are quite a few other athletes on the international podium who're pursuing the same goal. For the past year, I was able to improve at least 15% of my previous scores/records, and focus on a greater placing at the World Championships.
"My main aim is to become World Champion. Nevertheless, I'm thankful for the opportunity once again to continue to raise the Golden Arrowhead up high."
The "Show Stopper" explained that his main focus at the moment is setting a total and/or qualifying for international meets/ championships, and thereafter focus on world squat, deadlift and total records, which are as follows: Squat = 331.5kg, Deadlift = 372.5kg and Total = 853.5kg.
Peterson-Griffith has said it is his belief that through hard work, blood, sweat, tears, passion, patience, perseverance, consistency and more importantly time, sacrifice, determination, commitment and DISCIPLINE, he would become a good power lifter and a great athlete.
He also has maintained his deep gratitude to God Almighty for bringing him this far. Moreover, he is thankful to everyone who has supported him in his journey.
"Thanks to Fitness Express, SDB APPAREL, Jamie McDonald, Mon Repos Mall/Fitness Gym, Uncle Budraj (Buddy) Big John Edwards, Julio Sinclair, and many others who have supported, encouraged, motivated and more so talked some sense in me every now and then.
"Special thanks to the COVID Task Force for approving this event, and to the Federation for pushing to get things going," he declared.
The competition will be live-streamed for the virtual audience.