…says issue must be handled in a sensitive way
With Guyana currently undergoing unprecedented development, Vice President Bharrat Jagdeo said the Government is currently grappling with the need to fill capacity deficiencies in order to move ahead with major developmental projects while at the same time ensuring employment opportunities for Guyanese.
During a virtual appearance on a diaspora talk show, the Vice President addressed the issue of labour shortages in Guyana's rapidly growing economy.
He explained that Government is faced with the task of balancing ensuring that projects – both private and public – have the necessary resource capacity available to be executed in a timely manner and also ensuring that Guyanese are not sidelined from job opportunities here.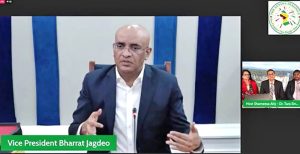 According to Jagdeo, this is especially the case with the skilled labour force.
"Already we are seeing in some parts of the country severe labour shortages particularly for some types of skills. So there has to be a time when, if we want to keep growing at the pace that we are growing without it becoming too inflationary and counterproductive that we will have to import labour and we may have to do it in a sensible way at the beginning so that it don't compete with local," he noted.
VP Jagdeo further pointed out that Government is cautious about overheating the economy with developmental projects which will not only lead to high inflation but also increase labour costs due to scarcity and the lack of local capacity.
"It's hard to find, even for the housing sector now, carpenters and construction people in many areas. You may have to allow them if they want to bring in 500 Mexicans to work on this project, complete it and then leave. So, you may have to allow it because if you don't, and you take labour from the existing market then what happens is the prices go up and you have scarcity, and it would affect your capital programmes."
"So, it's a very sensitive area because you don't want to do it in a way where a man is still looking for a job – say a displaced sugar worker or maybe a bauxite worker – and then he sees you bringing in somebody right away to take a job… It's a balancing act and we're very conscious of the need to not overheat the economy; we're very conscious of our people still, in some areas, being unemployed and we're very conscious about the need to do something to ensure that we keep our capital programmes going. So, it's between these three variables that often you have to make these decisions," the Vice President outlined.
Only late last year, the business community in Region Six (East Berbice-Corentyne) complained about a shortage of labour and the significant impact it is having on their operations.
But some labourers had refuted the claims, contending that the Private Sector needs to offer employees more than just a salary but other attractive benefits as well.
In the meantime, VP Jagdeo pointed out that the People's Progressive Party/Civic (PPP/C) Government is undertaking efforts to build capacity amongst Guyanese so that they too can benefit from the limited opportunities available in the oil and gas sector. He mentioned plans to establish an Oil and Gas Training School in Port Mourant, Berbice, which will offer short sources for skilled personnel such as welders and fitters – jobs that are in high demand by oil operators in the country.
Nevertheless, Jagdeo added that Government is also heavily investing in infrastructure, through co-investment and other measures, to stimulate non-oil and gas growth in the country that will generate the jobs of the future.
He noted that the emphasis is being placed on other economic sectors not only because oil and gas is a wasting resource but also it is not very labour intensive.
Moreover, the Vice President ruled out his Government doing any sort of cash payout using the oil and gas revenues – something which the A Partnership for National Unity/Alliance For Change (APNU/AFC) Opposition has called for.
However, Jagdeo did state that some of these monies will be spent on vulnerable groups such as children, pensioners and persons living with disabilities.
"The vulnerable groups would have to receive some of this money from the oil and gas sector to make sure that they have a better-quality life. But we can't splurge and give everybody," he said.
According to the Vice President, instead of setting up an unemployment scheme, Government is moving to hire between eight to ten thousand persons and give them part time jobs. This initiative is focused in areas like Regions 10 (Upper Demerara-Berbice), Two (Pomeroon-Supenaam), Five (Mahaica-Berbice) and Six (East Berbice-Corentyne) as well as the hinterland regions where there is little to no oil and gas investments taking place.
"So that is one way of ensuring that people could now have a part time job and then they can still go and work elsewhere. So, that is part of ensuring people with disability get additional help, the elderly and our children; so target groups but not splurge and give every able-body man and woman in the country money. That is not wise and we don't have enough money to do in any case," he stated. (G8)