A Joint Workplace Safety and Health Committee has been re-established in Region Ten (Upper Demerara-Berbice). This comes on the heels of calls made by the region's Guyana Public Service Union (GPSU) Representative Maurice Butters, who believes that the committee can provide assistance in alleviating prevalent health and safety woes currently being faced by employees.
The new Joint Committee consists of employees of the Regional Democratic Council (RDC), Linden Mayor and Town Council (LM&TC) and the Linden Hospital Complex (LHC). In an effort to sharpen their skills in the area of Occupational Safety and Health (OSH), members of the committee recently benefited from a two-day training organised by the Social Protection Ministry OSH Department.
The sessions were conducted by Senior OSH Officer attached to the Ministry, Roydon Croal. The interactive sessions provided information in various areas such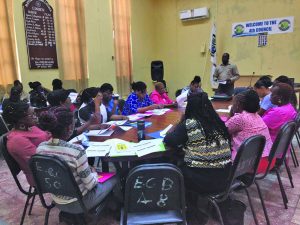 as an introduction to Occupational Safety and Health, the Occupational Safety and Health Act, workplace hazards, rights of employers and employees, HIV in the workplace, risk management, workplace inspection and policy as well as accident investigation and prevention, among others. Croal emphasised the importance of every workplace having an OSH Policy and for the OSH Act to be posted at workplaces.
"The broad objective is to equip the representatives of the Joint Workplace Safety and Health Committee with the basic knowledge and skills. This would enable them to develop and maintain safe systems and safe methods of work with a view of minimising or eliminating workplace accidents," Croal said.
He added that he was satisfied with the response garnered and encouraged all workplaces to have OSH systems in place.
"What I'd want to do is encourage businesses and workplaces to establish these committees, once they have more than twenty staff, as required in the Occupational Safety and Health Act. If they have five staff and less than twenty, then they are required to have a representative," Croal pointed out. He also stressed the importance of all organisations to have an accident register, which is required by law. It was noted that the main objective of the Joint Committee should be the promotion of cooperation between employers and employees in investigating, developing and carrying out measures to ensure the safety and health of employees. Moreover, the role of the Committee is an advisory one, as it is not a policy-making or regulatory body.