Charlestown drug bust
Following the major drug bust in Charlestown, Georgetown, on Tuesday, ranks from the Customs Anti-Narcotics (CANU) have taken a Route 42 minibus driver into custody for questioning.
He was arrested on Wednesday morning and is assisting with the investigation. The bus driver was observed by CANU ranks collecting a package from another suspect – a 58-year-old male of St Stephen Street, Charlestown – on Tuesday. In addition to the two males, the ranks also arrested a 23-year-old female of Lamaha Springs, Georgetown, who was found in the house during the operation.
In a release to the media on Wednesday, the Anti-Narcotics Body said the bust yielded the find of a total of 89.23 kilograms of cannabis and 20 grams of cocaine.
"No charges have yet been filed… All suspects are currently in custody pending the completion of the investigation," CANU said in the release.
The intelligence-led operation was carried out at the Lot 82 St Stephen Street residence after CANU received information that the possibility of narcotics being stored at the location. As such, the ranks swooped down on the location and had a stakeout until they caught the 58-year-old suspect red-handed.
"…We would have conducted our own surveillance and what we saw was the person that we currently have in custody, he arrived this morning in the motorcar – PPP 3008. Shortly after, we saw a 42 minibus arrive as well. The suspect went into the house and came out back with a black plastic bag, which he handed over to the driver of the minibus. Then [he] returned to the house and came out with another bag which he placed in the back seat of the car. Then he walked away up the street. Basically, the ranks intercepted him then," Deputy Head of CANU Leslie Ramlall told reporters at the scene on Tuesday afternoon.
According to Ramlall, the suspect was taken back to his motorcar and a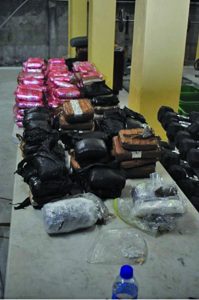 subsequent search conducted unearthed a black plastic bag containing cannabis. That discovery, the Deputy CANU Head said, caused the ranks to search the premises. However, they had to await the necessary documentation to carry out the search, hence the operation went on for several hours.
"[We] conduct a search of the house and currently, we have a large quantity of suspected cannabis and maybe cocaine as well. What we've gathered as well this is narcotics that came out of Columbia… and this would've probably come within the last 48 hours [of] it arriving at this location," Ramlall stated.
At the time, the female suspect was in the house. The narcotics were found in a room of the house, packaged off into small parcels in plastic bags. By the end of the operation, the anti-narco officers drove off with the tray of a pick-up vehicle loaded with the illegal drugs.
Meanwhile, with regards to the minibus, Ramlall told reporters that checks were made but no one was arrested.
"[We] found the bus at [his] home and conducted a search of that minibus, and we didn't find anything. Apparently, that person might have delivered whatever he had… [He] could be a delivery man [or] could be somebody bigger than the delivery man, which we suspected so we'll have to continue our investigations," the Deputy CANU Head stated.
Nevertheless, CANU's Second-in-command lauded the successful collaboration between members of the public and the Anti-Narcotics Body.
"It confirms that we continue to rely heavily on the support of members of the public as well as our intel-capabilities. And we're thankful that we continue to get this kind of support from the members of the public and the intel-community as well," he stated.
Investigations into the major narco-find continues.