…still hopes to play for Guyana Harpy Eagles or Amazon Warriors
By Brandon Corlette
Guyanese cricketer Jonathan Foo is heading to India to play in the Anand Premier League, which will be played from May 8 to May 23. A host of Caribbean players will be involved in the tournament, and Foo will turn out for the Samp Army franchise.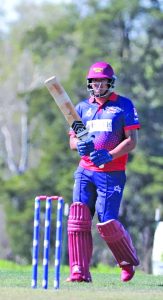 In an exclusive interview with Guyana Times Sport, Foo expressed his gratitude for the opportunity to play in India, and revealed how eager he is to return to play for the Guyana Harpy Eagles and Guyana Amazon Warriors.
Speaking about what he hopes to accomplish in the upcoming APL in India, Foo said: "I am hoping to have a good first outing, and hopefully be among the runs and help my team finish the tournament on a high. I don't like setting goals, but I will surely give my 110% and make the most out of the opportunity. It's a great feeling going to India and playing cricket."
India is known for playing high-quality cricket, as is evident in the level of play from the Indian Premier League to the Ranji Trophy. With a host of talented players assembling in India for this tournament, Foo will be playing among some rising stars. He views playing in this tournament as a plus for him.
"Watching cricket being played in India – IPL and even Ranji Trophy – playing in India will be a plus for me, seeing the quality of players and cricket there," Foo noted.
Having scored 334 runs for Guyana from eight games, at an average of 55.66, with a high-score of 97 in his last Super50 outing, Foo is hoping to return to the Guyana set-up.
"My intention (in regard to) playing for Guyana has always been there. Hopefully, I can keep scoring runs in all formats and different tournaments being played across the USA and in Guyana. I would love to be a part of the white ball set-up for Guyana Harpy Eagles and also Guyana Amazon Warriors," Foo has said.
Over the years, Foo has been dominant in various tournaments in the United States of America (USA), and those outings have been great for this right-handed batsman. He has said: "Experience playing in the USA is going good so far, and it's getting better as each tournament goes by. Players from all parts of the world are playing there, and there are a lot of T20 tournaments (being played) in different States."
Foo has credited the scouts and owners of teams in the USA for his selection to the APL in India. "It definitely helped me get selected to play in the APL, because there are Indian scouts and Indian owners for various teams being involved in cricket in USA."
The 31-year-old Foo has played in 13 List A matches and 30 T20s in both the CPL and Caribbean T20. His List A average is a healthy 36.70. He scored 97* and 47 in his last two outings for Guyana back in 2019.