…as elections violence fear surfaces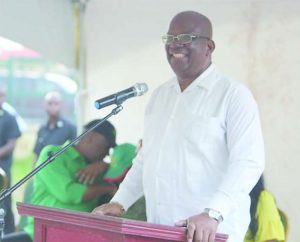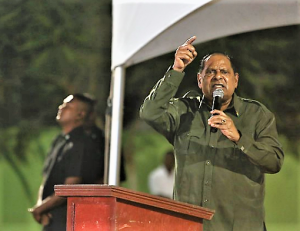 Regardless of what the Caribbean Court of Justice (CCJ) or anyone says, the coalition Government is not prepared to call elections unless House-to-House Registration is carried out. This is according to Finance Minister Winston Jordan.
Jordan made this statement during a Government outreach in Bartica on Tuesday, in the presence of several other Ministers of Government, in clear defiance of the CCJ ruling. At the time, Jordan also rallied coalition supporters to protest if necessary for House-to-House Registration. This is despite the fact that this exercise is likely to further delay elections that were constitutionally due since March 21 of this year.
"Comrades, be on the ready! Because we will be able to call you out to picket for House-to-House registration. No registration, no elections!"
"And CCJ or no CCJ, they can't tell us that we must tinker with that list to call an improper election. Elections must be free, fair, and proper," the Minister said in gross disregard for the ruling of the highest court in the Region.
It was only on Tuesday that the CCJ ruled that Government fell to the no-confidence motion the Opposition brought against it last December. The law says that when this occurs, the President and Cabinet must resign and elections must be held within three months of the motion.
That deadline elapsed since March 21, 2019, with Government having spent much of this time moving from the High Court to the Appeals Court seeking to overturn the motion, rather than ensuring elections were held.
At a press conference on Tuesday, Opposition Leader Bharrat Jagdeo had rejected the November timeline for elections put forward by President David Granger. According to Jagdeo, the parliamentary Opposition expects, in the interest of principle and practicality, elections in three months.
But Jordan, during his address, called on the Police to be on guard and utilise its intelligence. He also made it clear to the party's supporters that the coalition government had no intention of demitting office.
"From today Comrades, war break. Because we got to go to elections before the end of this year, hopefully. I say hopefully because we can only go to elections when GECOM says it ready. So don't let anyone tell you anything.
"And I'm putting the Police on notice. Mischief will be afoot between now and when the elections are called. You have to be on your guard and your lookout. Your intelligence has to be upgraded. Because already there is talk about bringing people on the street," he said.
Meanwhile, Prime Minister Moses Nagamootoo also made his pitch to the coalition supporters. Nagamootoo announced that there would be trouble if youths are disenfranchised – despite there being a process for adding youths to the list automatically whenever they become eligible to vote.
"The young people who turned 18 since the last elections, their names are not on that voters' list and anyone who calls for an election without our young people being on that voters' list, they're calling for trouble in this country," Nagamootoo said.
The People's Progressive Party (PPP) has since wasted little time in writing to Police Commissioner Leslie James (who coincidentally joined the Ministers in Bartica for the outreach) and the Ethnic Relations Commission (ERC) to register its complains over the two officials' statements.
On Tuesday, the CCJ ruled that the no-confidence motion of December 21, 2019 was validly passed against the Government. It also ruled that Alliance For Change (AFC) defector Charrandas Persaud was entitled to vote against his party list and that even as a dual citizen, his vote was still valid.
On the matter of the Guyana Elections (GECOM) Chairman, the court ruled that not only was that appointment unconstitutional but the President ought to have given the Opposition Leader an explanation as to why consecutive lists of nominees were being rejected.
Already, the diplomatic community, members of civil society and the Private Sector have called on all parties to respect the CCJ ruling. Soon after the ruling, however, President David Granger issued a statement in which he said that while he respected the ruling, the Government would still insist on House-to-House Registration – a process that could further delay elections.
Meanwhile, Opposition Leader Jagdeo also stated that Government was using GECOM and the voters' list as excuses to "desperately hang on to office, hoping his Government can spend taxpayers' money to improve its political fortunes – all while the country is drifting".