Berbician Andre "Padlock" Green continued his good showing this cycling season when he registered another victory.
"Padlock" emerged as victor in the lucrative Hell in the Cell Kaieteur Attack 55-mile cycle race along the Linden-Soesdyke Highway, stopping the clock in two hours, 32 minutes, and 15 seconds.
Green, who is a member of the Kaieteur Attack Cycling Club, was followed by Team Evolution's Curtis Dey (second); Walter Grant-Stuart (third); Paul DeNobrega (fourth); Kemuel Moses (fifth) and Christopher Griffith (sixth) in the senior category.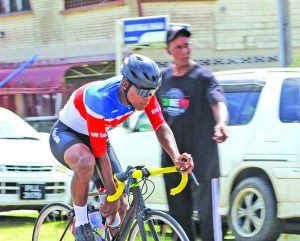 More than 35 starters took centre stage and contested along Soesdyke Junction, before proceeding to Silver Hill along the Linden-Soesdyke Highway, and then heading towards Splashmins Hill for the finish.
In the junior category, Berbician Mario Washington was the top rider, followed by David Hicks and Shurwin Sampson. In the female category, Team Evolution's Denise Jeffery emerged as the winner, followed by Marcia Dick and Clavicia Spencer. The females rode for 40 miles, and Jeffrey stopped the clock in one hour, 31 minutes and 23 seconds.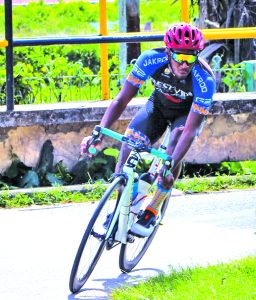 In the veterans' under-50 category, Grant-Stuart was the top rider, followed by Robin Persaud and Ian Jackson. Talim Shaw came second in the over-50 category, while Ian was the winner. This race was sponsored and organised by the Kaieteur Attack Racing Cycle Club, and friends of the club also sponsored the event. (Brandon Corlette)