The Essequibo Cricket Board (ECB) recently launched its inaugural Coaching Development and High- Performance Clinic at the Imam Bacchus Learning Resource Centre, Affiance, Essequibo Coast.
This is part of the Board's plan to build coaching capacity and to track players' performance on and off the field over a period of time.
Facilitating the programme was Level III Coach and Guyana Harpy Eagles data analyst Keshava Ramphal, who will be assisted by former Essequibo player and Guyana Harpy Eagles Assistant Coach Ryan Hercules and Child Protection personnel Brandon Ramlall.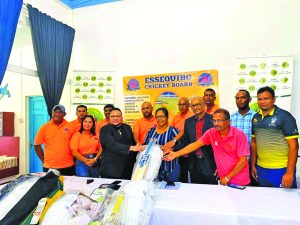 Twenty potential coaches will benefit from the coaching programme while cricketers from the Under-15, 17 and 19 levels along with female players will be part of the High-Performance Clinic.
The coaching education programme will be conducted over a three-day period and will focus on coaching philosophy, teaching technical skills, coaching styles and constraints, workshops on different aspects of the game, child protection, and practical skills.
Essequibo Cricket Board President Deleep Singh expressed gratitude to Ramphal and his team for assisting in building back cricket in Essequibo and explained the importance of coaches in developing players to represent teams locally, nationally and internationally. He further stated that coaching was the first priority for ECB since it was very difficult to develop players at all the levels with only two Coaches.
The recently-appointed Director of Cricket West Indies said he was happy to serve at the West Indies level and would work diligently to ensure players were well represented.
Also present at the launch were Region Two (Pomeroon-Supenaam) Chairperson Vilma De Silva; Region Two Vice Chairman Humace Oodit; Guyana Cricket Board (GCB) President Bissoondyal Singh and other members of the GCB.
The GCB Head said he was very pleased with the work of the Essequibo Cricket Board thus far. As part of a promise made at the ECB elections in January, Singh, through the Guyana Cricket Board, donated cricket gear to the tune of $4 million to area committees in Essequibo and once again signalled his commitment to assist in fixing the roof of the Essequibo Cricket Hostel as well as donate a brand-new bowling machine to the county.
Additionally, Regional Chairperson De Silva lauded the efforts of the ECB in its quest to return cricket to its glorious days and pledged her administration's support towards the development of the sport in the region.