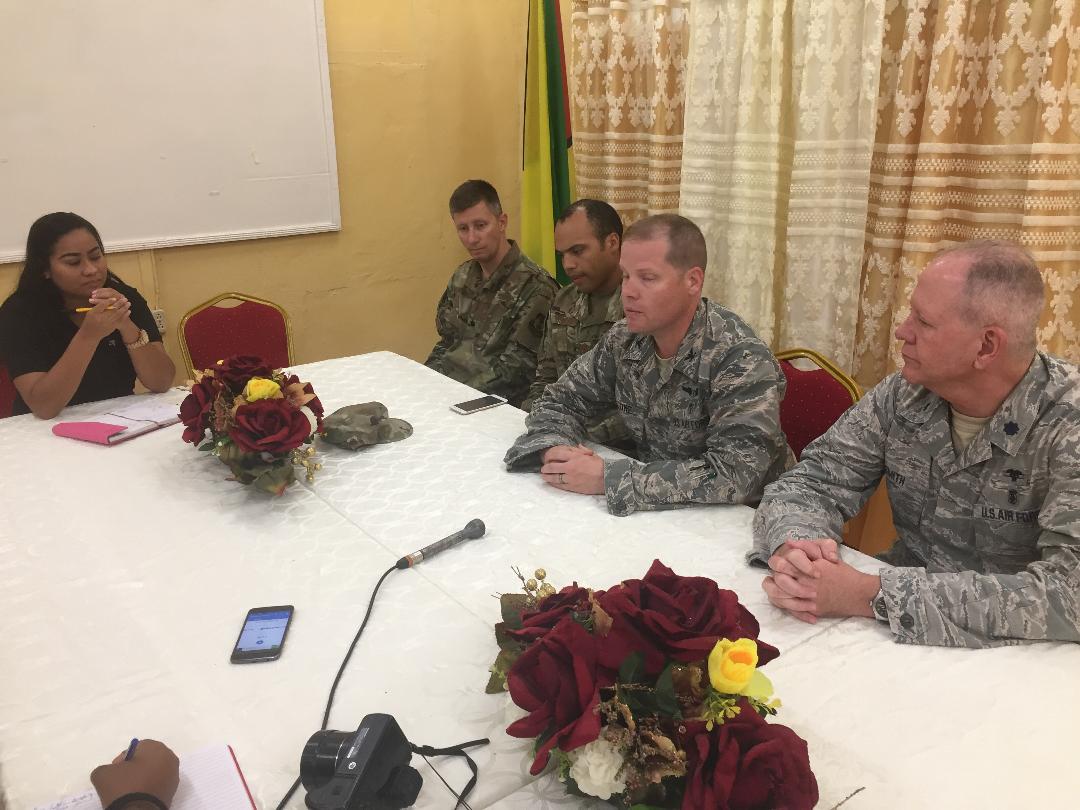 The New Horizons medical team in Guyana is set to conduct 39 gynecological surgeries at the Linden Hospital Complex (LHC) in Region 10 (Upper Demerara- Berbice), commencing on Monday.
Members of the Medical Mission revealed during an interview at the Hospital on Friday that they are very pleased with preparations so far done in collaboration with the local team. The team has so far been working alongside local medical staff to conduct a surgical training readiness exercise. Based on screenings conducted, the team's lead anesthesiologist, Colonel Greg Malone, said the main surgeries to be conducted are hysterectomies for uterine fibroids as he alluded to the large percentage of women affected by this condition in the community.
The team of 16 medical practitioners is expected to conduct more advanced methods of surgeries during the medical mission. Thirty-nine women in the community are so far expected to benefit from gynecological surgeries.
"We're very pleased to be here on request of the Government of Guyana in order to provide advanced surgical techniques to the Linden Hospital Complex as well as assist in our training of our personnel for deployment," Colonel Malone noted. He pointed out that larger uterine fibroids in women of African ancestry, as those seen, are caused by genetics. He noted though that fibroids are very common in all women, alluding that there is a study which shows that 70 per cent of all females have some amount of fibroids. However, he said larger fibroids are common among women of African ancestry.
"Most ladies don't really get large masses, however I can tell you having done several of these missions in Jamaica and Belize, Peru and here, for Central and Caribbean it is very genetic. Folks from these areas and also from Africa tend to have very large fibroid uterine which are very big and uncomfortable for patients…Central and South America, females that live in these areas, predominant African Americans, they have genetics for very large fibroid uterine. So we would be doing a lot of hysterectomies for very large fibroid uterine," Colonel Malone stressed.
He added that these can give patients a lot of problems, including heavy bleeding during menstrual cycles, bladder issues and feelings of abdominal pressure. Colonel Malone said based on talks with the local gynecology team, it has been noted that a lot of these surgeries are often conducted at the hospital, with the same disorders being observed in women.
Colonel Malone noted that hormonal contraceptives decrease the symptoms and discomfort associated with fibroids, in addition to taking non-steroidal anti-inflammatory medications such as Motrin prior to a menstrual cycle. This, he said, can mitigate symptoms but noted that nothing can prevent the fibroids from forming or becoming larger. Additionally, he said the team will also be conducting surgeries for patients who suffer from urinary and fecal incontinence (problems holding in urine or stool), adding that he specialises in reconstructive surgeries for these conditions.
The mission's lead gynecological and reconstructive surgeon, Lieutenant Colonel Jason Massengill said a total two staff physicians, four trainees, three anesthesia providers, three nurses and four technicians will be deployed to provide surgeries with a plan to run two operating rooms over the next nine working days. He noted that a list of over 50 patients who have advanced surgical needs has already been identified.
Deputy Commander of the expeditionary medical operations squadron, Captain Sean Bundles said there's a future Mission which will see a team of six doctors going to various health clinics across Guyana to work alongside doctors. A medical readiness training exercise is also slated for the Egbert Benjamin Centre in Linden from June 26 – July 12. It is expected to feature family health clinics, optometry, as well as dental and pharmaceutical services.
Chief Nurse for the operations Lieutenant Colonel Robert Smith also forms part of the team. Members of the team have noted that the leadership of the hospital has been very accommodating. Patients from Regions Three (Essequibo Islands-West Demerara); Four (Demerara-Mahaica) and Five (Mahaica-Berbice) are also expected to benefit.