By Utamu Belle
At 46 years old, Lindener Myrtle Gentle has created employment for herself by developing her farmland at West Watooka, Mackenzie. Myrtle, who is a mother of 4, decided to take the farming initiative seriously about 5 years ago as she started planting crops on her approximately 5 acres of land to which she occupies approximately 4 acres. She is in the process of developing the remaining acre. The proud farmer recently took the Sunday Times Magazine on a tour of her farmland which is well developed with crops including lettuce, parsley, bora, boulanger, watermelon, sorrel, cabbage, ginger, tomatoes and countless others.
"I am in farming for nearly about 30 years, but the truth is I never get into it seriously 'til about 5 years ago…before… I never paid much attention to it like a job. That is how I look at farming now…realising that if you need an income from it then you have to work, just as how you would go to work to have a pay at the end of the month, you have to pay attention to your farm in order to have a salary…" she told this publication.
It was this decision, Gentle noted, which inspired her to pour more effort and time into the practice as she then decided to live on the farm in an effort to do so. The farmer, who retails her produce, is ably assisted by her husband, four children and an assistant. She explained that her motivation to go fully into farming stemmed from not being comfortable with just being a housewife. She noted that after working abroad for some time, she decided to come back home to Guyana and create a job for herself whereby she can also be there to take care of her children.
"Even when I came back there was not something that I could put my hands on to do and have time with my kids plus work and earn money. I always loved farming, mind you, so then is when I decided to do it more responsibly," Gentle related.
The woman, who is quite passionate about farming, said she initially started off by producing to supply the wholesale market in Linden but did not find it to be economical. This prompted her to get into the local sales market herself, a decision which she says she does not regret. This also prompted her to grow a variety of other vegetables, including rare ones like cauliflower, zucchini and broccoli.
Apart from this, Gentle has also been into bee-keeping for about 20 years; however, she related that it wasn't until recently that she gained the requisite knowledge through a training workshop facilitated by the Agriculture Ministry,  the Linden Enterprise Network (LEN) and the Region 10 (Upper Demerara-Berbice) Democratic Council (RDC) Agriculture Department.
"I went to the workshop where I acquired a whole lot of knowledge. So we're venturing into it with knowledge now so we expect to see something more better now," Gentle explained. She was also awarded a beehive for her participation in the workshop and is now equipped with knowledge for honey production.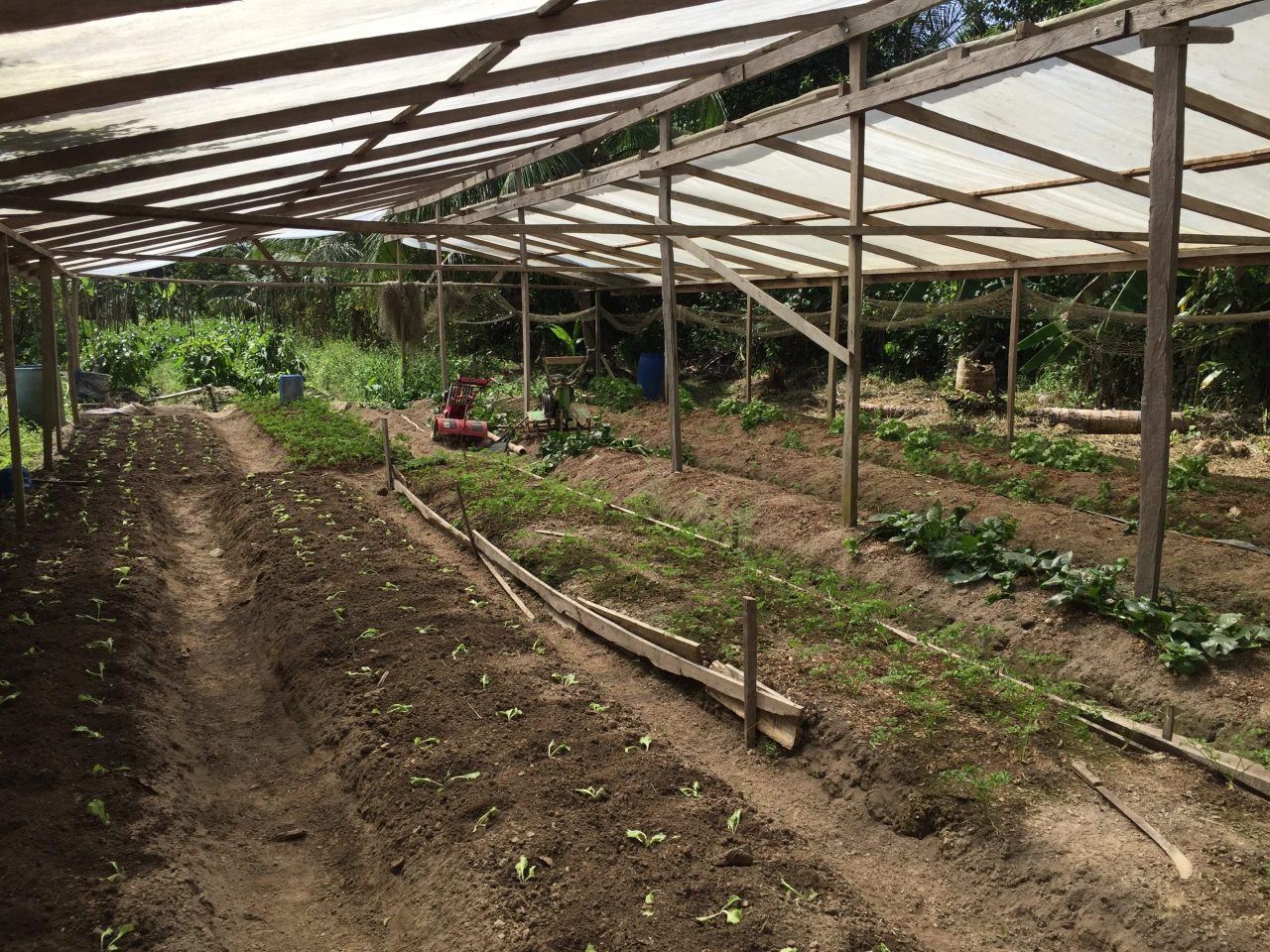 Gentle said she is thankful that she receives full support from Lindeners, whom she noted are always eager to purchase from her when she sets up her weekly market stall at Central Mackenzie.
"I don't know if there is another stall in Linden where persons go and sit and wait to be sold but I know my customers from Linden would sit and wait on me… and they do support me a lot. I'm very grateful for them," she related.
Gentle boasted that her locally-produced vegetables are always fresh. She would sell her produce at Central Mackenzie mainly on Fridays.
"My crops, I don't use a lot of fertilizers on them. If you purchase my cucumbers today, you have it whole week 'til you ready to buy cucumbers again. So I think this is one of the positive sides that would make people want to buy from me too," she posited.
While there are positive aspects, Gentle said she also has challenges, like, for example, dealing with the weather, pests and insects.
"It has a lot of losses…challenges because you can plant a lot of things and if the weather changes, then you lose all these crops. But at the end of the day you still can earn a living from it", she posited.
Gentle has established shade houses which is one of the ways she intends on dealing with the issue of the weather. She explained that she was gifted one from the RDC but said it was not effectively constructed and presented a lot of challenges. Another issue she highlighted is getting water to her farmland.
"For me, I face a serious challenge with water…I normally access water a thousand feet from here and that is just to get it from the front end of the land, and then I still have to bring it in and distribute it…So these are common challenges faced", Gentle explained.
She said while there is a canal which was dug at the back of the land, it is presently "dry" since it is used by a lot of farmers in the area.
Despite challenges, she said she receives support from the National Agricultural Research and Extension Institute (NAREI) in terms of knowledge and technical support. Gentle also has advice for persons who might be willing to follow in her footsteps: "You have to love farming. You don't just do farming because you see somebody else doing it. You must have a lot of love for farming because it takes a lot of your time, it takes a lot of patience and you have to have determination…A lot of things I give up for farming. A lot of times when I could be here or there I would choose not to…," she noted.
She has developed a love for the plants she nurtures
"I so love these plants that I refuse to leave them behind…I just love to see them grow and the harvesting time I would have to do it. But that is not the fun part of it. The fun part is caring and have them grow nice. You take a few pictures and you see them looking beautiful. That is the part I like", she mused.
Gentle encourages the relevant authorities to invest more in the West Watooka Farmers' Group and listen to their concerns.