A Linden-based, non-governmental organisation (NGO) – 'For the Children Sake Foundation' (FTCSF) in collaboration with the Linden Fund USA – rendered assistance to over 300 students from Region 10 (Upper Demerara-Berbice) with their School Ready Supply programme.
As part of its annual back to school drive, the FTCSF,through this collaboration was able to assemble backpacks and other school supplies which went towards assisting the less fortunate children from various communities within the region. Vernon Todd, founder of the NGO, said the organisation was able to secure 372 backpacks under the programme.
He explained that many children in Region 10 live in poverty and arrive on the first day of school without the supplies they need to learn. As such, he said by partnering with selected organisations, friends and other corporations nationwide, the School Ready Supplies programme directly delivers school supplies to those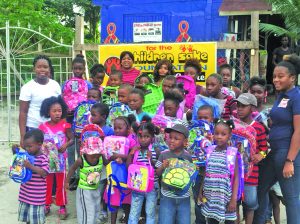 students who are less fortunate.
Tisha Campbell, Director of FTCSF, who also spoke at the distribution of the school essentials said in her remarks that last year 300 backpacks were distributed to vulnerable families. This, she noted, is to ensure every child, regardless of circumstances gets to start the new school term with much-needed learning necessities.
"This year, we are pleased to not only have another back-to-school drive but we are pleased to be privileged enough to increase the number of children we brought relief to. Three hundred and seventy-two bags were distributed not only in Linden but in other communities like Ituni. So we were fortunate to expand and we hope in the coming year more support would be garnered from privileged families and community members who understand the need and see fit to assist," she said.
Campbell also emphasised on the organisation's continued support of vulnerable groups. She added that it was a privilege to be able to aid families and pledged the organisation's continued support in assisting families in any way possible.