Belgium drug bust
…says Govt will go after persons involved
Government has pledged to get to the bottom of the massive drug interception in Belgium, which originated from Guyana and amounted to a whopping US$1.06 billion.
Vice President Bharrat Jagdeo told reporters at a press conference on Friday that there seems to be heavy local involvement. As such, he noted that local authorities are working with the US Drug Enforcement Agency (DEA) to probe the matter.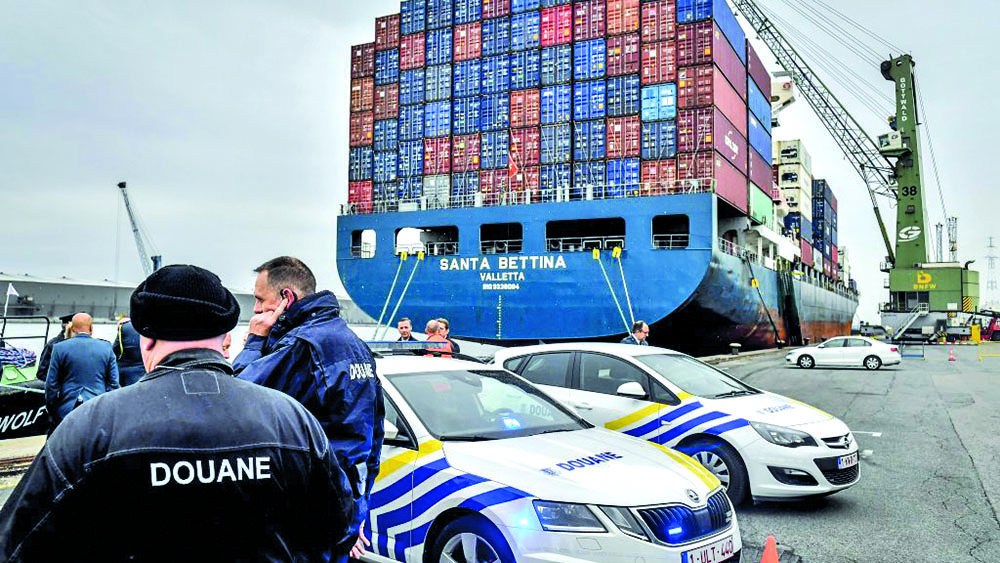 "We're glad that it was intercepted and we will go after all those people, go back and find all those people who were involved…I don't know if it's factual but I got the report that the container might have been flagged for inspection and it was never inspected. This is what I'm hearing so it seems as though there was heavy local involvement. We need to get to the bottom of it and we're working closely with the US DEA," Jagdeo said.
He went on to say that they are seeking to unearth all illegal transhipments. From all indications, scanners at the wharf have not been functioning for a long time.
"The scanners were not functioning. I don't know how many other shipments went through and were never intercepted," the VP explained.
Belgian authorities had intercepted the vessel that allegedly left Guyana in October with a whopping 11.5 tons of cocaine – the largest drug bust ever – the Brussel Times reported on Thursday.
According to media reports coming out of that country, counter-narcotics prosecutors tracked the transatlantic journey of 11.5 tons of cocaine from Guyana on the northeastern coast of South America and seized it upon its arrival at the Port of Antwerp, Belgium, on Wednesday.
Federal prosecutors told Belgian media that this is "the largest overseas drug bust ever worldwide", with an estimated street value of €900 million. The drug was disguised as scrap metal and placed inside a steel container, which was in turn packed into a sea container and loaded into a transatlantic vessel.
Following the record-breaking drug bust on Wednesday, three persons were arrested, including one person who is facing extradition to Belgium from the Netherlands. According to the report, the massive load of cocaine reportedly left Guyana in October, and prosecutors were able to track it following the dismantlement of a drug trafficking gang led by a former Belgian counter-narcotics chief, which revealed the existence of tight-knit links between criminal gangs and counter-narcotics and law enforcement officials.
Three police officers, a port manager and a lawyer were among some 20 other criminals arrested as part of an operation targeting the "well-structured" criminal organisation suspected of orchestrating large and "regular" drug shipments from South America to Belgium.
However, the record-breaking shipment was expected by law enforcement officials, as it is suspected it left the port of Guyana after the drug gang's arrest in Belgium, with drug gangs unable to intercept it once at sea, De Standaard reported. The dismantlement of the drug gang in late September led to the arrest and indictment of 22 people, with three people still in the Netherlands awaiting extradition.
Local arrest
Meanwhile, Head of the Customs Anti-Narcotics Unit, James Singh related on Thursday that two scrap metal dealers are in custody but they are contending that they are unaware of the drugs. James explained that the two men turned up at CANU Headquarters after they received news that agents were looking for them.
He further noted that investigators have since established that the cocaine was transhipped to another vessel. James, however, noted that CANU is in contact with its counterparts in Belgium as the drug enforcement agency continues its investigations. On Friday, a third person was arrested as CANU seeks to find the shipper.
In early August, local law enforcement authorities along with the Guyana Rice Development Board were left to probe the origin of a rice shipment from Guyana, in which a large quantity of cocaine was found in Germany.
According to Germany's international broadcaster Deutsche Welle, the massive stash, which had an estimated street value of around €300 million (US$353 million), was hidden between sacks of rice in the container which came from Guyana, local newspaper Hamburger Abendblatt reported.
The container had arrived in Hamburg's port at the end of June on the 300-metre-long container ship, "CMA CGM Jean Gabriel" and was expected to be loaded onto a feeder ship together with 11 other transport containers. The final destination was supposed to be Poland. For this purpose, the container was temporarily stored at the Hamburg terminal.
Investigators at the Joint Customs and Police Investigation Group (JIT) had reportedly received a tip-off about drug smuggling. During the investigation process, the container in question was then taken to the city's Waltershof customs office and examined in a testing facility.
Officers found 47 large packages hidden between the rice sacks and within those packages, a total of 1277 small parcels with cocaine. The parcels all had various symbols on them, including a cat's face, the Gallic rooster, and the Ampelmännchen (red and green traffic light symbols shown on pedestrian signals in Germany).