Champions at last!
Story and photos by Jemima Holmes
It has been a long, tiring road to victory for Lodge Secondary, but they finally got there on Wednesday evening as they topped the Guyoil/Tradewind Tankers Under-18 football league with a slim victory over last year's champions, Annandale Secondary.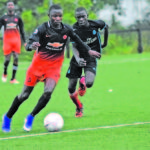 With a 2-0 loss to Christianburg-Wismar Secondary School in last year's league which prevented them from lifting the trophy and another 1-0 loss to the same opponents earlier this year in the Milo Schools' Under-18 final weighing on their minds, Lodge turned up in the scattered rain showers on Wednesday afternoon determined to take what should have been theirs on many occasions – an Under-18 schools' championship.
Both teams, Lodge and Annandale, had been dominant in this year's league with their most recent wins being by 8-1 and 12-0 margins respectively. As such, their first encounter at the Guyana Football Federation's training facility at Providence would be seen as the final of the tournament, where the winners would take home the top spot.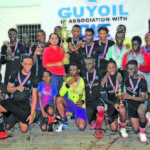 The fierce battle began with both sides eyeing an early goal in order to take control of the encounter. In this first half, Lodge Secondary controlled possession and it soon paid off with a try at the goal that unfortunately went awry. However, Lodge would soon get another chance with a free kick just outside the box. A bit of confusion and three attempts from the Lodge players in front of the net saw the ball finally making its way in, much to Lodge's glee and excitement. The goal had come off the boots of Rasheed Evans – his first goal of the 2019 tournament.
Annandale Secondary returned in the second segment more focused, but with two defenders on the heels of their shining star, Omari Glasgow, their opportunities were few and squandered when they did arise.
With heads bowed and disappointment showing, Annandale conceded the slim victory to Lodge when the final whistle sounded.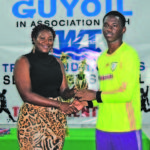 Meanwhile, Marian Academy came from behind to take home the third-place trophy as they romped to two late wins in the tournament to surpass fourth and fifth-place finishers the Bishops' High School and President's College.
In the individual awards, Annandale's Omari Glasgow walked away with the highest goalscorer prize for his 19 goals while Lodge's Rashad Roberts and Dorwin George were adjudged the best goalkeeper and Most Valuable Player (MVP) respectively.
Rasheed Evans
Despite the loss for Annandale, they will go on to play in the KFC Goodwill Tournament, along with Lodge, Annai and Waramadong Secondary. The tournament which will also be graced by Trinidad and Tobago's Shiva Boys and French Guiana's USL Montjoly, is expected to kick off on Saturday, December 14.