Linden electricity workers
In light of a two-day protest by workers of the Linden Utility Services Coop Society Limited (LUSCSL), a Terms of Resumption (TOR) was inked between the Guyana Bauxite and General Workers Union and the electricity company, which will see workers resuming duties today (Wednesday).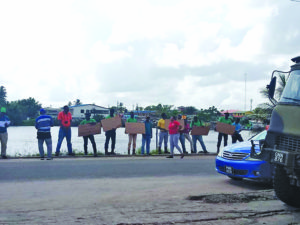 The Field Officer for the Union, Alieshaw Barker, noted that although the company had initially refused to meet with the Union while the employees were on strike, the two sides met and had the agreement signed following protest action by employees attached to the lines department on Tuesday.
Outlining numerous issues affecting them, the employees of the electricity company at Wismar had decided on a course of strike action on Monday. The workers stated that some of their main concerns were insufficient wages and salaries, safety issues, lack of allowances and what they considered to be the unfair suspension and dismissal of two employees.
The employees had further related that the linesmen had requested height and risk allowances but had gotten no response in relation to their request. These concerns, they noted, seemed to have been falling on deaf ears for some time now.
On Monday, Barker had indicated that if there were no conditions for Terms of Resumption by the company, the Union would have sought to have other employees join the strike in solidarity with the lines department.
She had also pointed to issues, such as fear of dismissal and victimisation, which the workers may face following the protest actions.
Barker had also referenced a correspondence which she handed over to the company on Monday on behalf of the Union, which outlined that the Union was in support of the strike.
The letter, which was seen by this publication, indicated that the Union is prepared to meet with the electricity company on Tuesday with the view of having the situation returned to normalcy. The letter also stated that the concerns that were raised by the employees are on the card for discussions.
However, Barker related that the Union has given the company seven working days to start the negotiations process and will prepare the Collective Labour Agreement (CLA) moving forward.
The TOR, seen by this publication, stated that, "Within 7 days following the full resumption of work the parties shall commence negotiation of a new Collective Labour Agreement (New CLA). The parties agree that the New CLA shall be based on the CLA, in particular as regards the resolution of Labour disputes. In the interim, pending negotiations and executions of the New CLA the parties agree to observe the CLA procedures for the resolution of such disputes…"
It also stated, amongst other issues, that there should be no reprisals or discrimination against workers who downed tools for the two days.