A Mahaicony, East Coast Demerara, businesswoman was on Monday morning found dead with her hands bounded and mouth gagged in the bottom-flat of her house.
Dead is Bibi Nesha, 56, of Lot 4 Novar, Mahaicony.
Reports are that the woman was found at about 06:00h by her nephew who went to check on her after she was not seen since Sunday afternoon. She was found lying face down and from all indications, her neck might have been broken, with lacerations about her body. Her house was also ransacked, leading Police to believe that she might have been robbed and then killed.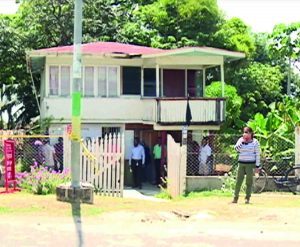 At the home of the dead woman, her sister Shauna Ali explained that she received a telephone call from a neighbour informing her that the her sister was not seen since Sunday afternoon. She recalled that her sister is someone who would wake up very early and open her shop located in the lower flat of the house.
She said that the neighbour told her that the gate was padlocked from the inside and although they called several times, there was no response.
"I sent my small son and tell he if he call and she nah answer, jump over", the grieving sister stated.
Upon arriving at the house, the young man followed his mother's instruction but as he entered the yard, he continued to call out for his aunt but still no response.
"He walked to the back, he see a door open and when he go in, he see she hand tie up, he see she foot tie up and he rush back home and tell we," the sister stated. She further stated that her sister lived alone and confirmed that the house was ransacked. The dead woman had been operating her business for quite some time and would normally supply farmers in the area with pesticide and weedicide. She also sold phone cards and other items. Several of the items were missing.
Following the discovery, the Police have arrested a teenager, who is being questioned. He is reportedly from the same village and had an argument with the woman on Sunday when he reportedly threatened to end her life.
Guyana Times understands that the teenager is a known trouble maker in the community.
Police are continuing their investigations.