…after told he has to pay for crashed truck
Mohamed Omar, also called "Old Boy" and "Budzo", a 65-year-old pensioner of Lot 1184 New Area, Canefield, East Canje Berbice, took his life after he was told that he has to pay for a new truck because he had damaged the one he was driving in a road accident. He was also fearful that the other driver, who was injured in the accident, might come after him.
Omar's wife, 54-year-old Bhamatie Isborn, found him hanging from a mango tree on Wednesday morning. She explained that her husband was arrested and placed in custody on Monday after he had driven a canter into another parked canter on the Corentyne Highway, and that accident had caused the driver of the parked canter to be injured and hospitalised.
After Omar had been released on $30,000 station bail on Thursday, he arrived home and declared he was going to take his life.
The injured canter driver told Police that he was in his canter parked at the side of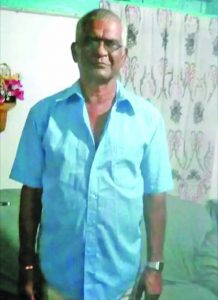 the road while his wife and daughter had gone into a store to make a purchase. He said he saw Omar's canter approaching his at a fast rate of speed, and as Omar reached closer, a car got into his path, and he served to avoid a collision and ended up running into his canter, thus hitting it off the road and into a trench.
This canter driver was reportedly pinned in the cabin of his vehicle, and had to be pulled out therefrom by public-spirited citizens. Omar was arrested, and after his release, he indicated that he was going to take his life.
Omar's wife noted that her husband's employer had called her daughter and requested that she collect her father's lunch bag and bicycle.
"When she bring it, 'Old Boy' say, 'Watch Dude send dem thing, so he gon leff me alone on the pressure?' He tell me like he gon got to sell the house and all a-we gon got to go on the road an live, an he still gon be in trouble; so best thing is fo he kill heself," the woman cried.
She told this publication that she did not take his utterances seriously.
Omar had suffered a stroke three years ago, and could not work. He resumed working last week, and had worked two days as a driver despite his wife begging his employer not to re-employ him.
The grieving widow said she went to bed on Tuesday evening leaving her husband outside along with one of his grandchildren. The child reportedly last saw his grandfather in bed at about 1:00h on Wednesday morning.
According to this widow, when she got up she did not see her husband in his room, and she rushed to the washroom to check for him. "Then I run to the back door, and when I push it open I see the hammock loose down, and ah know something happen. And when ah run and go outside, I see he hanging on the tree."
Isborn believes that if her husband had received some support from his employer after the accident, he might not have harmed himself. Omar leaves to mourn a wife, seven children and four grandchildren.