A 28-year-old man was stabbed and relieved of his belongings on Wednesday evening after he was pounced on by two men, one of whom was armed with a knife.
Based on information received, Kissoondyal Roopchand of Harlem, West Coast Demerara (WCD), was walking along Croal Street about 18:45h when he was attacked from behind by the suspects.
One of the men demanded that he hand over his cellular phone while the other searched for his valuables. In his attempts to ward off the suspects, Roopchand was stabbed once to his arm and tossed to the ground.
Speaking with Guyana Times on Thursday, the traumatised man relived what transpired: "One of them came from behind and he started pushing his hands in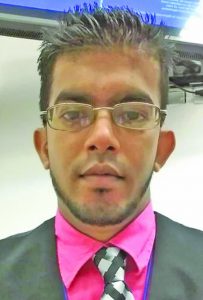 my pockets. I tried to fight them off and the other one was like 'get his phone'. That's when they stabbed me on my arm and punched me to my face and throw me down to the ground."
He stated that the bandits carted off a cellphone valued at $65,000, credit cards, a small quantity of cash and some documents.
A report was filed at the Police Outpost at the Stabroek Market, and the injured man was taken to the Georgetown Public Hospital to receive medical attention. He was treated and sent away.
While this is the first time that such an incident has happened to Roopchand, he posited that he was unsure whether or not he was being followed by the men.