– NSBF Nationals
The 12th Edition of the National Schools Basketball Festival-National Championships tipped off on Monday evening at the Cliff Anderson Sports Hall as Marian's Academy and McKenzie High School bucketed victories.
When action commenced in the opening game, the Marian Academy U-14 girls team, fresh off last week's Regional finals, defeated New Amsterdam Multilateral 19 to 9 points.
Jada Mohan led the way for Marian with 11 points, 3 assists, 7 rebounds and 6 steals while Kellian Sauers pitched in with 4 points and Renuka Ramcharran 2 points and 3 steals.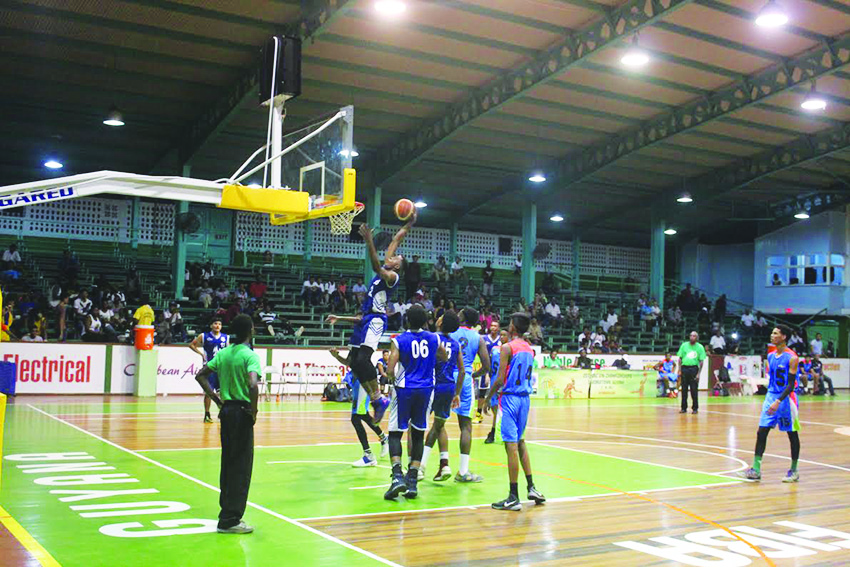 Tashika Arthur was the leading scorer for the ladies from Berbice, with a team- high 5 points to go along with 6 rebounds.
U-14 male defending champions Mackenzie High sent an early warning to opponents as they made light work of President's College defeating them by 29 to 21 points.
Damarcus Adams top scored with 10 points and 5 rebounds while Cy Walker added 4 points, 7 rebounds and Joshua Bacchus 7 rebounds.
Gabriel Lin led PC's feeble resistance with 9 points and 4 rebounds while Joshua Butts contributed 5 points.
The first major casualty of the 2017 Festival saw the Georgetown/East Coast U-16 Regional Champions St Rose's High School going down to a motivated Bishop's High by a single point; 37 to 36.
Royden Glasgow led for BHS with 9 points and 6 rebounds while Tarik Robinson and Stefan Hamilton added 8 and 7 points respectively.
Kwesi Roberts' 12 points, 14 rebounds and Anthony Yansen's 11 points and 14 rebounds were the top scorers for St Rose's.
The dominant Mackenzie High brushed aside the New Amsterdam Multilateral by 41 to 24 points in their U-19 fixture.
Veshon Trim with 6 points, Yannick Tappin 5 points and Shemar Henry's 5 points all contributed to Mackenzie's victory.
Garfield Benjamin was the lone resistance for New Amsterdam with 9 points.
In the final game for the evening, Georgetown/East Coast Regional U-14 Champions Marian Academy was too strong for the School of the Nations, with a 72 to 8 blow-out.
For the Marian Academy, Timothy Thompson had a game-high 35 points, 18 rebounds and 4 steals; he was well backed up by Jahleel Young who added 12 points, 14 rebounds, and Josiah Daniels with 9 points and 5 rebounds.
Kareem Boyle and Corey Graham scored 5 and 3 points respectively for School of the Nations.
In offering remarks before the symbolic jump ball Director of Sport Christopher congratulated Youth Basketball Guyana for its "stick-to-itiveness" and encouraged the participating teams to keep improving.
Jones noted that by improving they stand a chance to graduate to other levels such the Inter-Guiana's Games which will be played in Suriname this year.
The NSBF National Championships is sponsored by the Edward B Beharry Group of Companies Ltd, National Sports Commission, John Fernandes Ltd and Sterling Product Ltd.
Games will continue throughout this week at the same venue starting from 3:30 every day, with the finals in all divisions set for this Sunday July 9.