Wearing Team Evolution colours for the first time, Christopher 'Chicken Legs' Griffith powered on the last half mile of the Guyana Beverage Company-Tampico 63 Mile Road race to beat Team Coco's Jamal John to the finish line on Monday.
The cyclists rode off from in front of the company's Berbice office at Palmyra, East Coast, Berbice, to the No. 51 Police Station before returning to the starting line for the finish.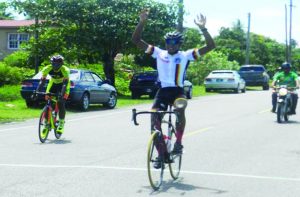 Griffith crossed the finish line in a time of 2hours 26 minutes and 37 seconds ahead of Jamal John.
His (Griffith) teammate Paul De Nobrega placed third, while Andrew Hicks finished in fourth, Raul Leal fifth, Andre "Padlock" Green 6th, Curtis Dey 7th, Steve Fernandes 8th, Romello Crawford 9th and Alanzo Ambrose 10th.
Early in the race the peloton which comprised of Griffith, John, De Nobrega and Hicks made an early headway and separated themselves from the bunch.
The breakaway group then turned the heat on as they approached the turning point. Griffith signaled his intention to break away, as he took control of the race from No.46 Village. Jamal John maintained his composure keeping abreast with Griffith in the closing stages of the race.
It was then a fierce battle to the finish line.
Each senior rider received a case of Turbo energy drink compliments of the sponsor.
The winners of each category all received cash incentives and a trophy.