– the resilience of a single mother from Linden
By Utamu Bell
She's a 25-year-old single mother of a vibrant and energetic two-year old, and nothing is stopping Lindener Jessica Brathwaite from working hard and achieving goals while maintaining a busy schedule.
This ambitious young woman presently manages a full-time job as an administrative assistant at a private learning institution, in addition to teaching part-time. She is a sterling example for young mothers across the divide who strive for excellence pursuing life as a career mom, while managing to take excellent care of their children.
A typical day in the life of Brathwaite entails waking up early in the morning, preparing and packing lunches and dropping her daughter, Carlica, off at daycare, just before making the journey to work.
"It's not that hard for me with one child. I just have to be out the house by 7:20 to meet to work at least by 5 to 8 because of transportation problems," she revealed during an interview with this publication.
And it's all about planning and strategising in order to get through the day hassle-free for this hardworking and dedicated mother.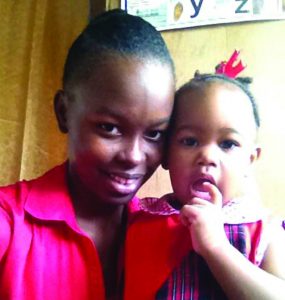 "I prepare everything in the night, so when I wake up I just make snack, pack her lunch bowl, pack my bag and we're out the door, hopefully by 7:20. If I'm making a snack, I would wake up about 6:15, prepare, wake her up by quarter to 7, take her to school," Brathwaite explained in giving an insight into her day as a working, single mom.
While she works from Monday to Friday, the dedicated single mother manages to spend quality time with her daughter after work and on the weekends. And believe it or not, little Carlica is presently learning the alphabet and how to spell her name. At the tender age of two, she's already potty trained and can speak full sentences, all thanks to the love and dedication of her mother. Brathwaite, who says she enjoys taking care of her baby girl, admits she's a little overprotective of her daughter at times.
"I don't like leaving her with people. I don't even trust daycare 100 per cent, but she got to go out at some point. It's slightly challenging but it's manageable for me."
Brathwaite is also skilled in computer repairs and would pursue work in that field occasionally. Asked about any challenges she may have, she responded humorously:
"I don't make as much money as I want to. I guess that's the only challenge for me," she said with a chuckle. The love and support she receives from her family are overwhelming, and she noted that this was very important in raising a child as a single parent in today's society.
"My parents, they support me a great lot. My child's father also; I get really good support from him," she said.
Her dedication to raising and providing for her child is the ultimate goal of this mother, who is not of the impression that she is missing out on life.
"I don't really go out, so I don't miss the partying. As people would say, when you get children, you can't go partying. I was never the party type, so I don't mind. I would tell people, anywhere I'm going, my daughter has to go with me…I like travelling. I've never travelled much out of Guyana, but due to the fact that I have to take her everywhere, I can't just up and leave as I like," Brathwaite explained.
She plans to make life a bit more comfortable for her daughter, which includes adding a few of life's essentials. Brathwaite, who presently resides with her father, dreams of one day owning her own home and vehicle as well as travelling to see the world.
"First off, I want to own my own home— working on that presently. I also want to travel the world with my daughter, so she can see different cultures. Somewhere in the mix, I want to buy a car, just so she can have a comfortable childhood like I did. I'm also thinking of becoming a teacher, just so I can be home to spend more time with her when she's not at school. That's basically everything in a nutshell," she noted.
Her advice to young mothers is to put their children first, noting that children need lots of love and attention.
"You have to enjoy your life, but you also have to remember that you brought a child into the world. That child has to come first. A child needs time, a child needs attention, so just give them attention, show them love and affection. You must also teach them about God. It helps them. Just make sure you put your child first in everything."
As we celebrate International Women's Day today, let's spare a thought for the millions of single mothers across the world  who manage to juggle a 9 to 5 job and maintaining a household while taking good care of their children.