Story and photos by Jemima Holmes
In two weeks' time, Guyana's national under-16 boys' team would embark on a historic tournament in Europe through an opportunity made possible by the UEFA Assist programme.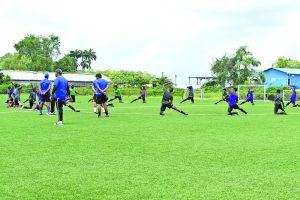 This opportunity is the first of its kind for Guyana, and Head Coach Vurlon Mills has said preparation is coming apace as he hopes to perfect several aspects of the team as they ready themselves for a trio of formidable opponents.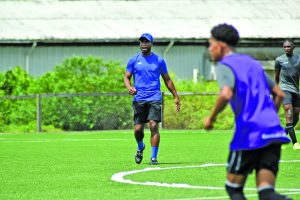 Back in January, the Guyana Football Federation (GFF) had announced that Guyana has been invited to participate in a four-team, UEFA- sponsored international youth tournament in Moldova, a landlocked Eastern European country situated between Ukraine and Romania. This tournament is set to feature national teams of the same age group from Andorra, the Faroe Islands and hosts Moldova from April 11th to 19th.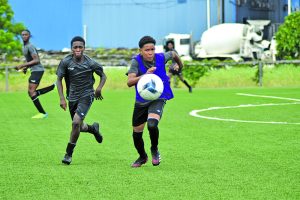 Now with less than two weeks before the youngsters take to the pitch in Europe, Head Coach of the national under- 16 team, Vurlon Mills, is of the opinion that the team's preparation has been great.
"So far, preparation has been coming good. For the fact that these boys were out of football for some time, it was difficult for us to teach everything at once; and so we're just trying to focus on two or three aspects of the game, and do it very well going into this tournament," Mills shared with Guyana Times Sport on Saturday morning.
Singing high praise for the teenagers on the national team, Mills spoke of their talent, and highlighted that managing this aspect would be key to Guyana's success in Moldova. The Head Coach boasted, "I know with this bunch we have some very, very good talent, but now it's how we put that talent together that will make the difference on the field. So, most of what we're on at this time is getting the team to understand each other, getting them to play well as a team, and then again focus on a few aspects of the game and try to execute it as best as we can going into this tournament."
At a recent training session, Mills could be seen playing referee during a scrubby game while passing out key instructions. He explained that it is a great opportunity to instill positioning and plays with the young players.
"I've worked with most of them before coming into this preparation phase, so we have a good relationship. Now we're trying for them to get comfortable on the ball, relax, and play because, I'll say this, most of these boys never had this level of practice before," Mills said as he gave context to his familiarity with the players' needs.
He went on to explain his methods, stating, "So, again, getting them to understand basic principles and basic understanding of positioning is a challenge, right; so, being in the middle there, encouraging them, helping them to understand, I think they're learning and starting to grasp what is needed of them in that position and what is needed on the field.
"I can see plenty improvement from them," the Head Coach affirmed.
The international tournament was made possible through GFF's relationships with the UEFA Assist programme, and will see Guyana's Under-16 Boys in action on April 13, 15 and 18. Guyana's involvement in the tournament is also said to be the basis for preparation for the national team, which will go on to compete in the CONCACAF Boys' U17 Qualifiers in August-September, 2022.