The softball fraternity has been plunged into a state of shock upon receiving the dreadful news that stalwart and prominent player Lakeram "Mike" Singh had succumbed at the age of 62 in Florida, USA.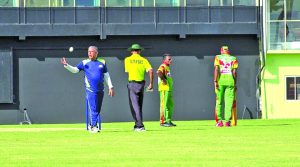 Hours after the news began circulating, several players and administrators began paying tribute, stating that Singh has left an indelible mark on the softball cricket scene, not only for his personal performances, but also for his contribution in the form of continual sponsorship.
Singh was representing his team, Mike's Wellman, in the 16th edition of the Florida Cup, a three-day softball extravaganza that commenced on Thursday, when he suffered a heart attack. The Guyana- based entrepreneur and father of two had bowled two overs in the Legends category before leaving the field for a quick break, but when he resumed playing, he collapsed. He was rushed to a nearby hospital in Fort Lauderdale, but was pronounced dead shortly afterwards.
Through Mike's Pharmacy, Lakeram "Mike" Singh had sponsored numerous competitions over the past three decades under the auspices of the Guyana Softball Cricket Association (GSCA), Guyana Softball League (GSL), Guyana Floodlights Softball Cricket Association, and the Georgetown Softball League (GSL).
Former teammate and longstanding secretary of the GSCA, Royston Ramsarran, mentioned that softball cricket has definitely lost an icon in every respect. "He was a great human in every way, and his support for softball cricket, way back in the 90s to date, is tremendous. I am heartbroken …I have known him for like 35 years. I am the one who introduced Mikey to the softball game, and he never turned back," an emotional Ramsarran related.
Shameer Ali, a former opening batsman for Mike's Pharmacy cricket team, also expressed shock at Singh's passing, describing it as "gone too soon", while other popular and current players like Bobby Parasnauth, Ramesh Narine, Rovendra Mandolall and Wasim Haslim are in utter disbelief.
"This is hard to believe, that Singh passed away. He was very approachable, and his service to softball cricket was tremendous," Essequibo legendary softball player Ramesh Narine related.
Haslim, who played for Mike's Pharmacy, commented that the game has lost a legend.
"Softball world has lost a legend; the world has lost the greatest human. Sleep in peace, Mike; you will be missed by everyone. We became friends and then family; you taught me a lot in my cricketing journey, and more so about life," Haslim expressed.
Former national youth player Mandolall, taking the opportunity to share his sympathies and condolences to the grieving family members and loved ones, said since he was playing softball cricket in the mid-90s in Georgetown, he could have seen the immense love Singh had for the game.
GSCL President Ian John described Singh's passing as a real shocker. "This is unbelievable, to know about his passing. He was such a wonderful individual, and always generous when it comes to sport. Cricket will definitely miss him and his passion and commitment for the game, which was enormous," John said.
Leonard Harprashad of the GSCL echoed similar sentiments. Harprashad, who performed the role of Organizing Secretary of the GSCL, declared that Singh's generosity towards the game was phenomenal, and he demonstrated it by sponsoring a large number of cricket competitions for male and female players.
Singh's body is expected to be returned to his homeland today. Funeral arrangements are in progress.