WCD drug shortage
…says procurement process is long
Junior Public Health Minister, Karen Cummings on Friday disclosed that there has been an increase in the number of complaints from hospitals across the country when compared to three years ago.
She was at the time addressing concerns raised about the shortage of medicines and pharmaceuticals supplies at hospitals along the West Coast of Demerara. According to her, provisions were made by establishing a procurement office to supply hospitals but Guyana's disadvantage lies in the fact that it is a third world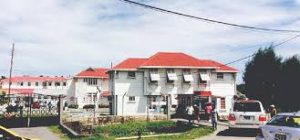 country.
"This is a time where we've been hearing more complaints since we've come into office, even though we have set up a procurement office and a last-mile so that the drugs can go to the last possible outpost," said the Minister.
She noted that medicines reach Guyana after "metropolitan" countries are supplied. Adding to that, regional officers have sufficient funds, should hospitals request additional drugs.
"We are putting those systems in place. Health is decentralized and the Regions would warrant the money for us to buy in bulk. They keep back some money themselves so that they would buy as the need arises. Guyana buys in small bulk when compared to metropolitan countries so we would have to wait our turn when they would have served the bigger countries."
Cummings stated that medicinal shortages are also caused because of the lengthy procedures at the National Procurement and Tender Administration Board (NPTAB) but efforts are in progress to eliminate these setbacks.
"There is a process with the suppliers and it takes many months to go through the tender process and so we have been working assiduously."
Sources at the West Demerara Regional Hospital (WDRH) confirmed on Thursday that many individuals, primarily senior citizens were left with no choice but to leave the hospital without any medication since none was available.
"We have people coming in here and we are having Panadol to give them. Old people who need medications are being turned away because we can tell them what's wrong but we can't really help them because they need the drugs," the medical professional stated.
He explained that this has caused some worry since some rural families depend on public healthcare. Meanwhile, patients shared similar sentiments on Tuesday about other services that are provided by the Leonora Cottage Hospital while hinting that the hospital lacks medical personnel to attend to patients.
In this regard, the junior minister revealed that these matters will be investigated soon.
"We will have to investigate but I know that the region has money to buy. We already had a meeting to see how we can address and improve the services."
Meanwhile, on Friday it was reported that the telephone service at the Skeldon Hospital, Berbice was disconnected due to the non-payment of bills, forcing the administration to purchase a mobile phone to contact with doctors. It has been three weeks since the telephone service has been disconnected and the Mortuary at is also non-functional.
Administrator of the Hospital, Sherla Scott, questioned the entity responsible for paying the bills. Scott said contractors who did work at the Hospital have to wait for months before they are paid. She noted that the contractor who did work at the institution's mortuary is still to be paid months later and in now withholding his services.