Kristie Emily Rambharat, a 17-year-old delegate sponsored by Team Mohamed's to participate in the Miss Amerindian Heritage pageant, has officially been crowned Miss Amerindian Heritage Queen after some controversy pertaining to the tabulation of scores had been resolved.
The pageant was hosted last Saturday evening at the National Cultural Centre, and delegates from the various Administrative Regions competed for the title. After several hours of intense competition, Amber Andrews, Miss Region 5 (Moraikobai), was crowned queen, but that did not go down well with the audience, and more so, the announcement did not corroborate with the judges' scoresheets. As such, the scores had to be retabulated, and Rambharat was officially handed the crown a few days later.
Coming in as first runner-up was Miss Region 4, Narria Simon of St. Cuthbert's Mission, while the second runner-up spot was awarded to Miss Region 8, Valda Marlie Williams, and the third runner-up spot went to Miss Region 5, Amber Andrews.
Rambharat, a former Uitvlugt Secondary School student and resident of Karrau, a small village off Bartica, was extremely excited to be crowned. She also declared that her journey to the crown had definitely not been an easy one.
Despite the controversy, the new queen, whose desire is to become a professional chef, has called for the delegates to be respected, and has condemned the negative social media posts which are intended to degrade them.
During her reign, which would last for two years, the queen intends to work with young Amerindian girls who dropped out of school for whatever reason.
In the meanwhile, the newly crowned queen has been privileged to meet and interact with her sponsor, Mr Azruddin Mohamed, on Wednesday. Several other delegates accompanied the queen to that meeting, including Miss Region 4, Narria Simon; Miss Region 5, Amber Andrews; Miss Region 9, Monica Joseph; and Miss Region 3, Reahna Emanuel.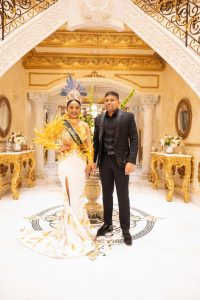 The young ladies will be working with other agencies to advocate for programmes to be implemented for abuseda women; empowering women; creating a safe space for women who were abused, and promoting the "One Guyana" Initiative.
Leading up to, and on Pageant Night itself, the delegates participated in the Indigenous challenge, talent, evening wear, traditional wear, and the intelligence segments.