Youth Commonwealth Games
– Allicock battles for semi-final spot today
Lightweight boxer Christopher Moore started Guyana on a winning note at the Youth Commonwealth Games in The Bahamas when he defeated Dimitris Christofi of Cyprus on points Wednesday afternoon.
In what was described as a classical display by coach Sebert Blake, Moore, a gold medalist at the 2016 Caribbean Development Championships, dropped Christofi in the first minute of the third round to storm into the quarter-finals.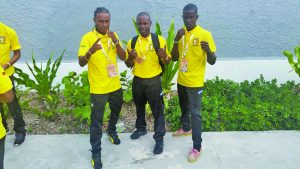 "It was a classical performance from Christopher Moore. He did all that I asked him to do. He out boxed his opponent and won on aggression. I really cannot complain with his performance. He won all the rounds," Blake said.
According to the AIBA Three Start coach, Moore's next bout should be a tough one. He however assured that the Guyanese is focused and has the ability to overcome any hurdles.
"We now have to turn our attention to Friday when Moore will take on Englishman Charles Frank. If he (Moore) continues where he left off today then we will be looking good," Blake added. Frank drew a bye into Friday's round. Guyana would be back in the ring today when flyweight Keevin Allicock battles Kian Bittles of Northern Ireland.
The winner earns a semi- final place against Jordan Mathieu of Canada.
"We expect a tough fight but Keevin Allicock is a very determined fighter. He knows what he wants and I anticipate that he will give 110 percent.
Moore and Allicock are a part of a 10-man team of athletes from Guyana participating at the Games.
Meanwhile, St Lucian lightweight Kareem Boyce lost to Tryagain Morning Ndevelo of Namibia in the second round.