…says divestment plan will cripple sugar workers
The 2018 Budget debate was opened by Opposition Member of Parliament (MP) Priya Manickchand who wasted no time in reproaching Government for its lack of vision, describing the fiscal plan as a 'check box' budget and urged them to state their ideology and philosophy for Guyana.
Manickchand, a former Minister under the People's Progressive Party (PPP) Government, told the National Assembly that the paper was robotic in laying out a proper programme for the development of Guyana. She is of the firm view that it does not address the needs of the people.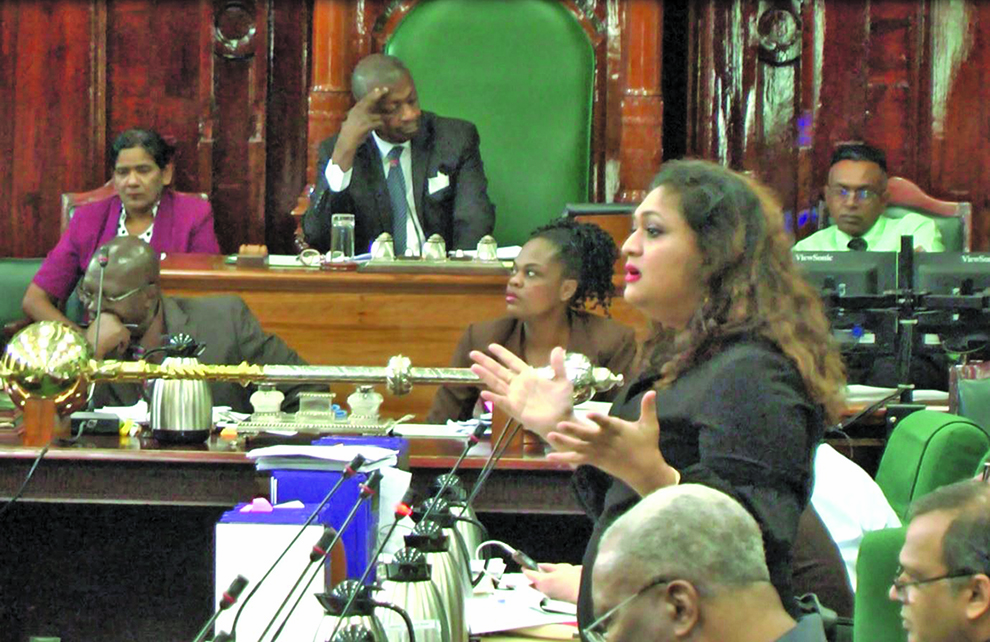 In addressing some of her concerns about the local economy, the Opposition MP said because of the politically unstable environment, people feel uncomfortable to invest in Guyana. But importantly also, Manickchand said there are several reasons that continue to cause the local economy to perform poorly, which has to do with the Government's incompetence to strategise.
She argued that the PPP laid a solid foundation to propel the economy to greater heights but accused the current Administration of "dumping years of democratic practices." Manickchand therefore urged the Government to work with the Opposition to craft and present a stimulus plan. She noted that this is lacking in Budget 2018 and all the previous budgets that were presented by the current Government.
The former Minister noted also that the Government has adopted most of the programmes and projects that were started under the PPP Government which continue to show some progress. However, in a few cases where these programmes have been altered, they are not achieving the goals that they were created to achieve and this, according to the MP, should be addressed.
Further, she debated that Government seems incapable of properly projecting Guyana's annual income, noting that this has happened twice last year when they had to make adjustments. Manickchand pointed out that Government had to come back twice and admit to making mistakes on the projections.
"I want to invite the Government and the Ministers in the Cabinet to consider why it is they might have not seen the expected income they wanted. I am asking directly, Sir, of the Ministers for them to ponder if perhaps the fact that they declared the country to be bankrupted from the beginning has seen no investments coming here and therefore no growth," she added.
Touching on the PPP's performance in Government, Manickchand said her party delivered development that benefited all groups of citizens and during their leadership poverty was reduced. She therefore challenged the coalition Government to continue to ensure that poverty is further reduced but noted that the 2018 Budget did not contain any tangible measures to support this reduction.
Crippling sugar workers
Speaking specifically about the plight of sugar workers, most of which will no longer have a job in 2018, the Opposition MP said the coalition Government is 'crippling' these workers. "We failing to give them anything they can do to earn for their families. So it's like a car, you're walking out of this Parliament lick you upside down and change your life automatically. The Government is doing that."
Manickchand argued that the Government's move is unconscionable especially since they have made no effort to train the affected workers to become employable in any other field. She said, "These are not skilled and educated people that you can get up from one desk job and move to another assuming that those existed for 2000 people. These are people with special skills, you have to retrain them."
Reference was also made to President David Granger's visit to Kenya, as he addressed a United Nations forum and encouraged the gathering that people must be put first before profit. "We don't need to go to Kenya to hear people before profit, let your actions speak right here in Guyana. Put the people of the sugar estates first… Aren't they people or because they aren't your people?" she questioned. "I want to ask this Government if they feel comfortable knocking off these people because they do not believe these people aren't theirs. That's not an insinuation but a clear question. Answer it!"
The former Human Services Minister has suggested that the Government utilise the money earned from the imposition of the Value Added Tax (VAT) on education to assist the families of those who will be laid off by the end of this year by the Guyana Sugar Corporation. Manickchand said this will help to cushion the effects these soon-to-be unemployed parents face ins ending their children to school, especially in light of the fact that Government had removed the school uniform subsidy.