IRB Hong Kong Sevens…
By Akeem Greene
Guyana's National Rugby team, commonly called 'Green Machine' left Guyana shores last Sunday en-route to the New York for a one week- training stint ahead of the IRB Hong Kong Seven tournament from April 7-9 and according to captain Ryan Gonsalves, training in the 'Big Apple' has given the squad even more confidence as they head into the tournament.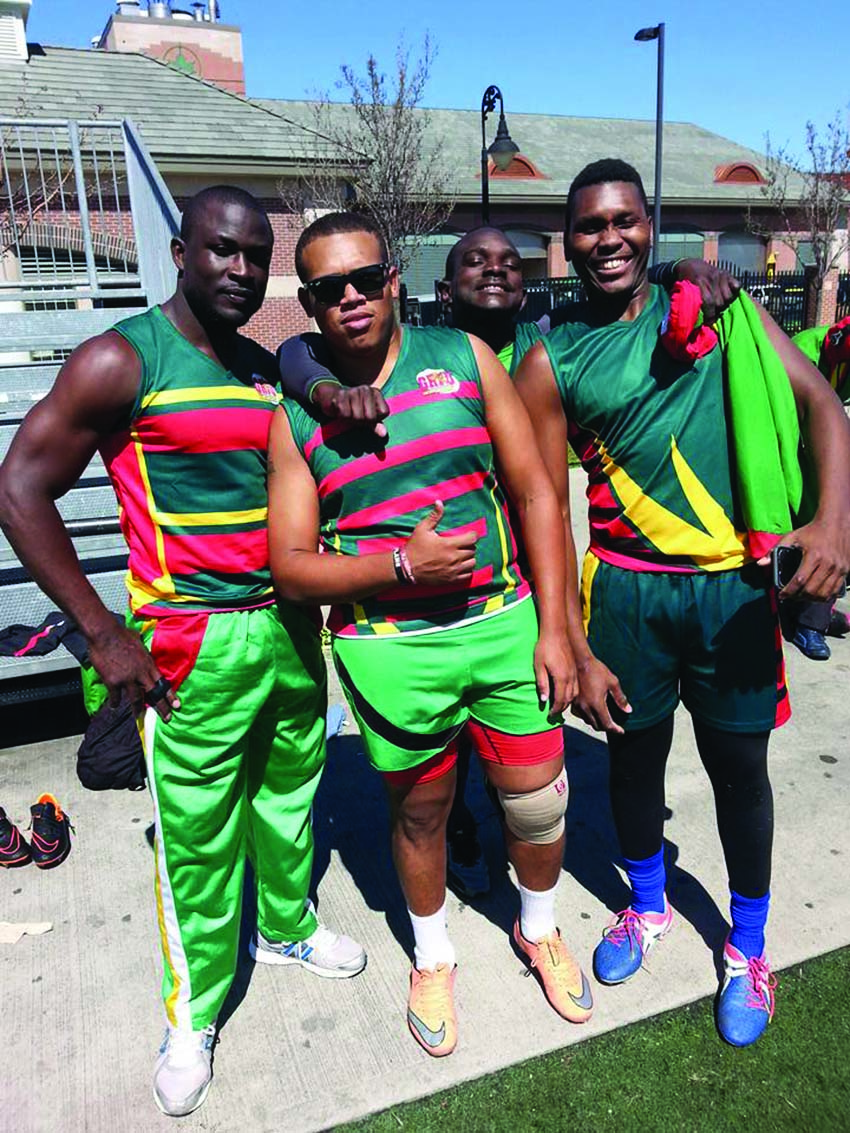 "The team is looking good we are able to get two training sessions a day outdoors and indoors which has been helpful for us to get our strategies and game plan in place; having the squad together for this training camp is a plus for the team because usually we just get together at least three days prior tournaments," the captain stated in an interview with Guyana Times Sport on Saturday.
The aim of the stint in New York was to expose the team to top quality teams in a bid to develop areas such as speed and other strategies.
"We played Stony Brook University on Wednesday night they are a very good 7's rugby side we won one game and lost one; the experience was great, we manage to try out our new strategies and patterns we are implementing for the Hong Kong sevens," Gonsalves explained.
He added, "We are working on restarts from the kick offs, since we are a smaller team at that level and have been exploited especially in 2015 when we last played in Hong Kong."
The experienced player outlined the areas where he has already seen an improvement and will look to better those with practice games against teams in Hong Kong.
"We are working on our line speed and speed to the breakdowns which has showed a lot of improvements so we are try to get a few practice games against teams not in our group but that can only confirm when we arrive in Hong Kong and once that is confirm we will really get to test ourselves," he posited.
Guyana are in Pool G along with Spain, Papua New Guinea and Uruguay and the Gonslaves believes they have good chance of progressing.
"Our chances are good as any other team, we are going and give our best on the field regardless who we are up against; We are in tough group since these are teams who are regularly invited to these big tournaments and beat big teams on the sevens circuit," the captain confidently expressed.
With an outlook on the future and development of Guyana's rugby, Gonsalves felt it is critical that the team gets regular international exposure.
"While Guyana have to win the Caribbean tournament to qualify for this Hong Kong 7's which mean we have to wait a year to get to play against top flight teams; If we get financial support to attend invitational tournaments with top teams we can get up to speed with any team in the world," he contended.
In closing, the player expressed great appreciation for the support of the Beharry Group, John Fernandes Ltd and the National Sports Commission (NSC).
The squad will depart New York today at 10:00h and will arrive in Hong Kong Monday at 14:00h after a 16-hour flight that leaves them just three days to get acclimatized for their first game.
Guyana's squad reads: Ryan Gonsalves (Captain), Rupert Giles, Vallon Adams, Richard Staglon, Rondell McArthur, Rickford Cummings, Peabo Hamilton, Claudius Butts, Patrick King, Avery Corbin, Ronald Mayers, Dwayne Schroeder and Blaise Bailey.
The officials are Grant-Stuart (Coach), Robin Roberts (Manager) and Physiotherapist, Barrington Browne.