Guyana Defence Force (GDF) athlete Marlon Nicholson is enjoying his spot at the top of the local 10K rankings, after pulling off back-to-back wins in 2021 and 2022.
Nicholson ran 34:30.79 on Sunday morning to clinch the top spot in the Ex-Athletes and Friends Independence 10K Road Race, beating an experienced field of competitors.
When quizzed by Guyana Times Sport about his emotions following the win, Nicholson shared his excitement.
"Feels great, you know, after a long time. From since 2019 Joint Service, I'm now coming back. Last year 10K was a bit of experience and coming back this year and winning the first 10K for the year, it's a great feeling," the athlete said.
He added, "I was preparing for this 10K early in January coming on to now. So, I was well-prepared."
Continuing on what comprised his preparations, Nicholson shared, "You could say plenty endurance runs. I had to get fitness, so a lot of speed work [was] required."
In the race were the likes of Winston Missigher and Cleveland Thomas, who have won many a race between them, in spite of this, the 26-year-old Nicholson was able to find the right formula to beat experience.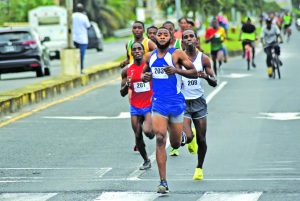 "As an experienced man, you know you learn from them. As I compete with them, I get to strategise myself every time I run," he explained.
Nicholson went on to say, "For me, I had to stay close coming down in the race. You don't want to be far off, so staying close was a better option for me. So, when I decide to move, I'm going. That's just exactly what I planned, so I did it."
Missigher, who led the race for the majority of the 10K, found himself beat on the last lap, having to settle for second place.
About his race, Missigher said, "It feels great. Nevertheless, I'm disappointed, but I still appreciate the second place."
Speaking on the rainy conditions on Sunday, Missigher said, "It was fatiguing, but as distance athletes we have to prepare for any weather – rain, dew, sun, or snow. Distance athletes don't have any specific weather."
When asked about his race plan, he detailed it, but was quick to admit that he did not do enough to execute well.
"Actually, I start the race. I carried the race from scratch 'cause I know he was the stronger guy in the race. He's very strong. He's an 800 [metres] and 1500 [metres] athlete, he's very strong over the finishing, so I decide to take the race earlier to take more speed out of him," Missigher explained.
"That was the direct plan, but just that he's a bit stronger than me right now, in terms of his core, his abs, everything is built up, due to the work that he put in in the gym sessions."
With regard to his preparations, Missigher believed that he did not do enough.
"It wasn't much, you know. In terms of training and gym sessions, I wasn't getting to do enough training, but I come out here this morning and gave it my all," the athlete declared.