…$120M for rehabilitation of pontoons
As the consideration of the estimates in the 2019 Budget continues in the National Assembly, some $286 million was set aside for the Berbice Bridge Company Incorporated (BBCI) as the House approved the budgeted $38.5 billion for Public Infrastructure Ministry on Tuesday.
Part of the monies for the Berbice Bridge Company was a provision of $120 million for the rehabilitation of the pontoons.
Back in October, the BBCI had taken up the Public Infrastructure Ministry on its offer to assume full responsibility for the maintenance and rehabilitation of 39 pontoons, which had not been serviced for more than two maintenance cycles.
This agreement was followed by the subsequent announcement by BBCI Chairman, Dr Surendra Persaud, that the company is facing bankruptcy and as such proposed to increase its tolls as much 300 per cent in some cases, to keep the Berbice Bridge afloat. However, this was strongly opposed by Government with subject Minister David Patterson eventually declaring last month that the functions of the bridge company "to maintain and operate the bridge shall be exercised by the Government of Guyana as of November 5, 2018, until the date the Minister specifies by notice on the cessation of the threat to public safety."
To date, Government still assumes responsibility for the operation of the bridge.
As such, during Tuesday's session in the National Assembly, Minister Patterson was grilled by the Opposition on aspects of the bridge's operation.
People's Progressive Party (PPP) Shadow Public Infrastructure Minister, Juan Edghill asked which agency is currently managing the bridge company since the State took over operations and also asked about where the earnings are going.
In response, Minister Patterson said the BBCI continues to manage the operations of the Berbice Bridge, while adding that "…all tolls collected, are collected and deposited in whatever account that company so wishes and all… revenues collected by that company continues to be collected by that company."
"The Government of Guyana collects no money, whatsoever, from the Berbice Bridge at the moment," he posited.
Moreover, when further questioned about the quantum of loss that the BBCI is incurring by not having increased tolls and who will be incurring this loss, the Public Infrastructure Minister affirmed that he was only answering queries relating to the line item 'Subsidies and contributions to local organisations'.
That line item contained a subsidy of $166,304,000 which Minister Patterson explained is the sum that was agreed on in 2016 to subsidise toll increases requested then by the BBCI.
"In January 2016… we entered into an agreement with the Berbice River Bridge Company Inc to provide a subsidy to the toll to the residents of Region Six and Region Five; and Sir, this line item has been here since 2016. The subsidiary will continue in 2019 to the exact sum…," he told the Committee of Supply.
On this note, Edghill asked whether the $166.3 million subsidy will be adequate to deal with the circumstances of the Bridge Company at this time.
The Public Infrastructure Minister, in response, asserted that "There is an agreement between the bridge [and Government] for this level of subsidy; $300 for cars and 10 per cent for all other vehicles. That equates to $166,304,000 and that is what I'm addressing to this Assembly."
While Government remains adamant about not allowing the proposed toll increases, there has been calls for the state to buy out shares from investors.
Guyana Times understands that the BBCI, in which the National Insurance Scheme (NIS) has majority voting rights on the Board of Directors, was forced to push for the increase in tolls in order to protect its investment. In fact, it was revealed that NIS was the only investor who received returns on its interests in the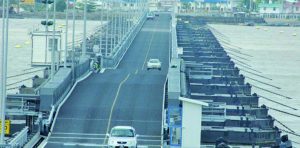 Bridge Company.
To this end, outspoken political activist and former Presidential Advisor Ramon Gaskin suggested that an alternative is for Government and the NIS to solely own the bridge, thus buying the shares from all the other shareholders.
Meanwhile, one of the shareholders told this newspaper that it recognises that the Berbice Bridge is in serious financial jeopardy given that debts have reached maturity and few options are available to stave off bankruptcy.
"The Government should sit down with the bridge company and work out the appropriate subsidy with due reference to the financial model and or the Concession Agreement. This is necessary as a result of Government's refusal to allow incremental increases, or in other words, refusing to honour its contractual obligations as per the Concession Agreement," the shareholder said.
Another noted that if an agreement cannot be reached, then it is recommended that the Government buy back the bridge and compensate investors in keeping with the financial model and other investment documents.
In a shocking move on November 5, 2018, the Government of Guyana snatched control of the Berbice River Bridge in an apparent effort to nationalise the structure, which was financed mainly by private investors.
The People's National Congress (PNC)-led Government said that in accordance with the powers conferred upon Public Infrastructure Minister David Patterson by Sections 4 (1) and 11 of the Berbice River Bridge Act, "in the interests of public safety, the Minister issued an order declaring that the functions of the Concessionaire to maintain and operate the Bridge shall be exercised by the Government of Guyana as of 5th November, 2018, until the date the Minister specifies by notice on the cessation of the threat to public safety."
However, the Government's unilateral decision did not go down well with BBCI Vice Chairman Paul Cheong, who told Guyana Times that such an arbitrary move was a slap in the face of all public-private partnerships.