Turbo Knockout Football Tournament…
…GFC upset Santos U20 team
The last two teams to make it into the semifinal round of the Turbo Knockout Football tournament are last year's defending champions Northern Rangers and the Georgetown Football Club (GFC).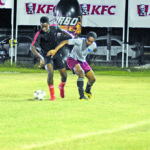 They each secured a birth in the semifinal round following suspenseful quarterfinal games on Sunday night — the night of the underdog — when four teams gathered at the Ministry of Education Ground on Carifesta Avenue to battle for two remaining semifinal spots in the third edition of this Turbo Knockout Football Tournament.
Sunday's first game involved 2018 winners Northern Rangers and Riddim Squad locking horns in what was arguably a very aggressive encounter. In a match plagued with cards, collisions and injuries, neither of these two very experienced teams would let the other get the better of the encounter, and a stalemate ensued at the end of regulation time.
The result would have been different, and the match way shorter, had the Northern Rangers been given their cleanly-scored goal in the second half. A pass in front of the goal was easily tucked in by an approaching midfielder, but to the Northern Rangers' dismay, it was called offside by the linesman.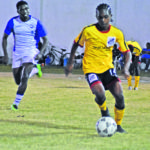 When extra time could bring no winner, the game went down to penalties, an area which for some time has been the Achilles heel of Riddim Squad, and Northern Rangers got their revenge for the controversial call made earlier when they connected two goals for the victory, as opposed to Riddim Squad's zero.
The upset of the night came in the second game, wherein the Georgetown Football Club (GFC) fielded a boosted team against the once dominant Santos FC Under 20. Fresh from an 8-1 victory in the preliminaries, Santos weren't aware of what was coming until the whistle sounded and GFC began the game at a highly competitive pace.
GFC's lone mistake of the 90 minutes came as an infraction in the box that resulted in a penalty kick being awarded to Santos, which was cleanly taken by Santos captain Marcus Wilson in the 19th.
The very skilled Deon Alfred, however, levelled the scores in the 32nd minute when he beat Santos goalkeeper Rashad Roberts.
Excellent work on the backline ensured the scores remained locked until the end of regulation time, plunging the game into extra time. There, GFC outplayed their younger opponents, and were rewarded with a goal in the 108th minute, which turned out to be the winning goal.
Based on the results of Sunday evening's games, Pouderoyen FC will battle Fruta Conquerors U20 in the first semifinal game to be played on Sunday, January 19, at 19:00hrs.
The second semifinal game, wherein defending champions Northern Rangers go toe-to-toe with GFC, would be played at 21:00hrs.
The eventual winner of this Petra-organized Guyana Beverage Inc-sponsored tournament would pocket $400,000, whilst the runners-up (2nd, 3rd, 4th placed) teams would respectively receive $200,000, $100,000 and $50,000. (Jemima Holmes)