‒ annihilates field to seal National Road Race title
By Michelangelo Jacobus
Raynauth 'Obeah Man' Jeffrey rode a well calculated race to dethrone Geron Williams in Sunday's Guyana Cycling Federation's (GCF) National Championships Road Race.
With a time of 3hrs, 59m, 37s, Jeffrey beat Paul De Nobrega into 2nd place and Hamzah Eastman into 3rd place to take the National Champion title from Geron Williams, who finished in fourth place. DeNobrega and Eastman clocked identical times of 4hrs, 16s.
Commencing from before the National Sports Commission's (NSC's) office on Homestretch Avenue, the cyclists battled their way in the sweltering heat to Timehri; then doubled back to the Linden/Soesdyke Highway and headed to Camp Seweyo, where they then turned around to make for the finish line on Homestretch Avenue.
At that juncture, Williams was leading the Peloton. He pulled away as Raynauth Jeffrey, Hamzah Eastman, Michael Anthony, Andrew Hicks, Paul De Nobrega, Jamual John and Orville Hinds gave chase.
Jeffrey and Williams were still leading the pack at Supply, East Bank Demerara when fatigue began to take its toll on the pursuing riders; and defending champion Geron Williams soon became one of its victims. At that stage, Jamaul John and "the Obeah Man" decided to take the action up a notch, breaking away from the pack and never looking back.
Jeffrey, who rides for Team Pharmaco-Deep South based in Georgia, US and Trinidad/Tobago, told media operatives that coming down the final miles, although he was in a bit of discomfort, he put his head down and gave it his all. He noted that at that point he knew he had the race in the bag.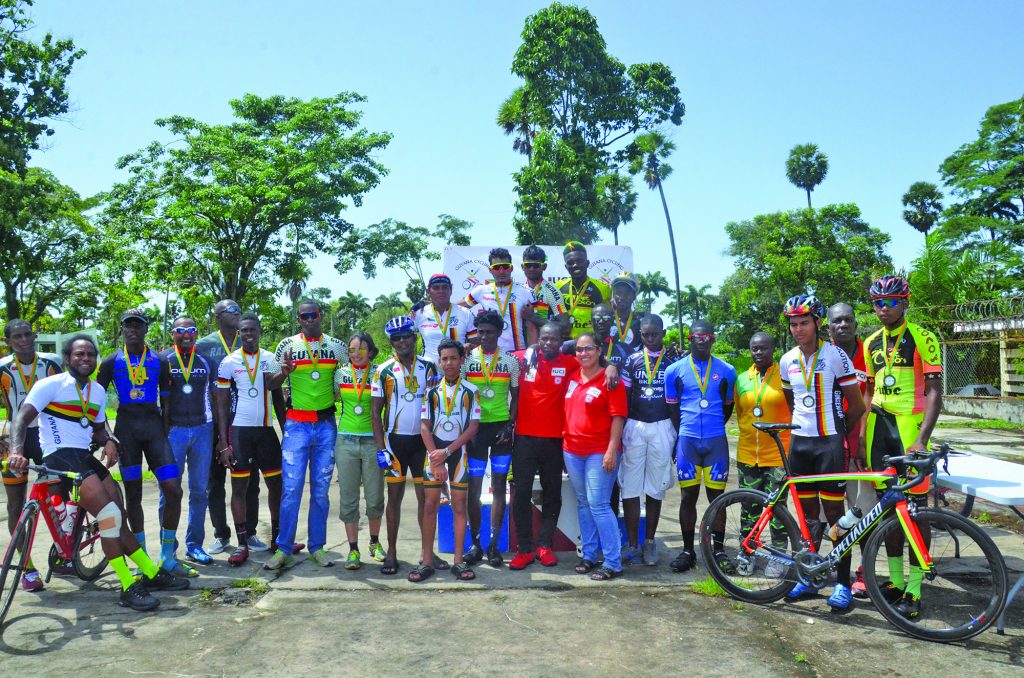 As he turned the junction at Mandela and Homestretch Avenues on the final stretch to the finish line, there was not another rider in sight.
Jeffrey attributed his success to his experience in the USA, saying he has learned to ride better in a pack and conserve energy.
The Pharmaco rider had previously won the Championships in 2013, but was absent for the 2014 edition, as he was nursing a broken collar bone. He was beaten last year by Williams, who also won the 2014 Championships.
Jeffrey started off the Championships on a high by topping the field in the time trials on day one of the Championships — June 17. He topped the field in a time of 14:20.25s, while Jamal John came in second in 14:35s, and Romello Crawford clocked 14:58s to close out the top three in the seniors' category.
Warren McKay was the winner of the road race on day two of the Guyana Cycling Federation's (GCF's) National Championships on June 18, when he crossed the finish line ahead of Leer Nunes, who came in second, and Steve Ramsuchit, who came in third in the U-45 category. McKay finished that race in a time of 2hrs, 58m, 40s.