Once again, the University of Guyana was buzzing with excitement as students from various schools flocked its Turkeyen Campus to look at prospective job opportunities available in the country.
With Guyana poised to become one of the largest oil-producing nations in the world, students were eager to learn about careers they can pursue in the lucrative field.
A number of booths were set up across the campus from public and Private Sector companies, providing information and ideas on the career options which exist in their respective agencies.
While many expressed interest in the oil sector, Jasmine Rose of Queenstown Secondary had her eyes on the ExxonMobil booth, as she strolled her way over to see what they had to offer.
"The fair is quite interesting but the one I'm looking forward to is the ExxonMobil one and I'm yet to find it," Rose expressed.
Guyana Times spoke to some of the representatives from various companies who lauded the University for organising the event.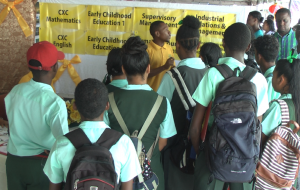 Communications Advisor of Exxon, Nicholas Yearwood explained that the oil giant was angled at providing information on one of their oil discovery projects while noting that they will be adding more individuals to their current recruitment.
"We're present at the fair basically to talk about our project, the Liza Phase One project, and let people know of the opportunity that may exist in the oil and gas industry. We will be advertising a few more vacancies within this year and ramp up staff," Yearwood added.
This was countered by Ramps Logistics who provided a hands-on approach with persons who are employed in the sector. The Human Resources Assistant, Gianna Pearson, explained that they are representing El Dorado Offshore and Orbis Caribbean.
"El Dorado Offshore is our recruitment agency or manpower agency. We basically do recruitment, hiring, marine services and we basically provide crew members for the oil sector," said Pearson.
One of the crewmembers, Earl, related that he has been in the sector for some years and it is a rewarding experience which will grow as time progresses and Guyana comes nearer towards oil production.
"It is an exciting time for Guyana and especially young people so I want to encourage the young people to come onboard. We have our recruitment office and plenty of positions available for young people."
Meanwhile, others chose the educational facilities – a very prevalent one being Cacique Accounting College which was represented by Fazil Bacchus.
"We offer the ACCA qualification along with the FIA and CAT qualification. It's a premiere qualification recognised in 108 countries around the world and of most of the accounts in Guyana, it is the popular qualification," said Bacchus.
Adding to that, Banks DIH took a hands-on approach to the career explosion by introducing the manufacturing sector and ways in which persons can gain employment in this field.
Human Resources Supervisor of the beverage company, Alexis Guanardo said "We're here selling jobs. Every year we participate and we want to teach them how to make the stuff they see on display."
Some other popular booths included the Guyana Police Force (GDF), the Guyana Energy Agency (GEA), the Business Ministry and the Guyana School of Agriculture.
UG's Career Day Fair is an annual activity aimed at exposing students to the numerous opportunities available for them after graduating high school. The Tain Campus was active along with other faculties to showcase what they can present as well.