…all sectors of the economy to experience transformative growth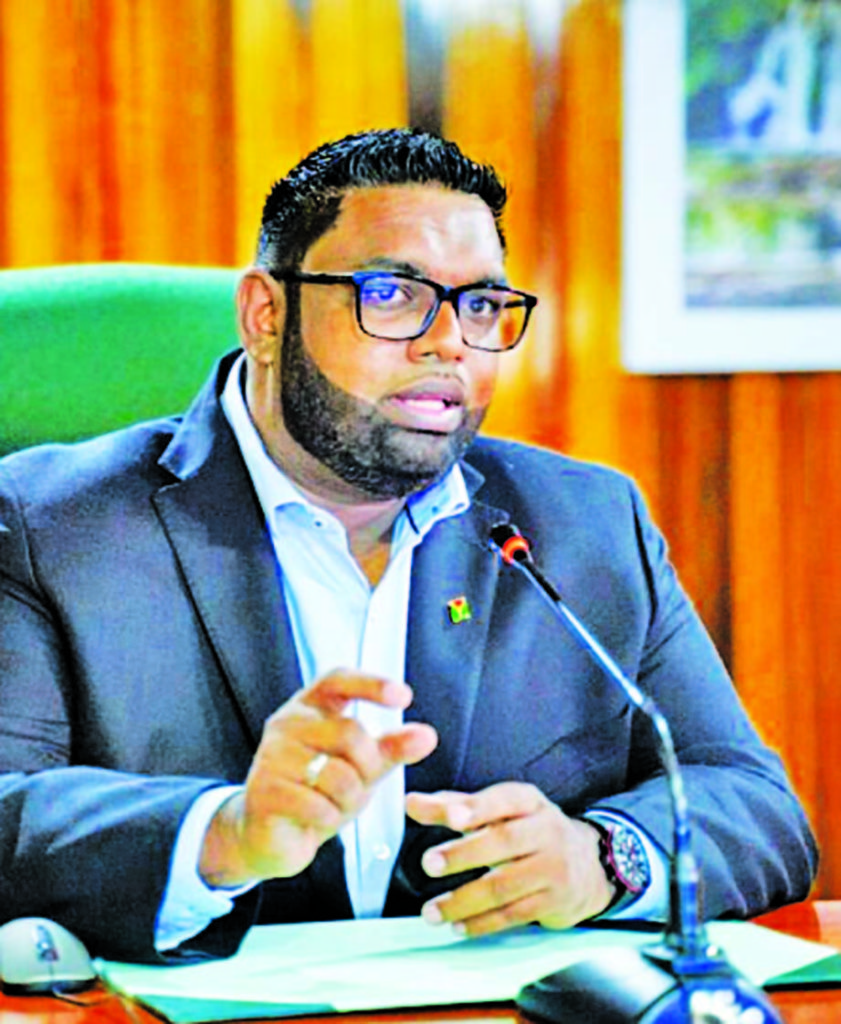 Guyana's oil and gas sector, which only began production in 2019, will play a critical role in Guyana's development. According to President Dr Irfaan Ali, some of the money from the sector will go towards developing a world-class education and healthcare system for the people.
President Dr Irfaan Ali made this pronouncement during a broadcast interview on Monday. According to the President, his Government has much to do when it comes to developing Guyana.
"What will create an enabling environment, one that will secure the existing economy and take us into the future. We have to address what are the hindrances to our development. One, the cost of energy. Human capital. The lack of transformative infrastructure. A healthcare system that is not modern. An education system that needs continuous modernisation."
"We have set ourselves some very ambitious goals and a strategic vision in how we're going to achieve this. First of all, we have to build a world-class education system. And this is where the resources that will come from oil and gas will go. To ensure we have a world-class education and healthcare system," President Ali said.
The President went further in laying out his vision for how Guyana can progress using some of the money from the oil and gas sector. According to him, monies can also be used to build infrastructure that will transform the physical landscape of Guyana and open up new opportunities in the productive sectors.
"(We must) open up new opportunities in agriculture, industries, manufacturing, aquaculture. The wealth must be able to create new opportunities of growing new forms of wealth, while at the same time stabilising existing sectors."
"That's why we will continue to invest in key industries that have important social and economic impact, like GuySuCo. So, the transformation you will see from an infrastructure standpoint will see opportunities for deepwater harbours. New shore-based facilities. The reduction of travelling time and the cost of doing business."
Along this vein, President Ali spoke of the plans for linking Guyana and Brazil through a road link, opening up thousands of acres of land for agriculture and housing and the reduction of the cost of energy.
Guyana, with oil giant ExxonMobil as operator, began producing oil on December 20, 2019, in the Stabroek Block. The first million barrels of profit oil from the Liza-1 well was lifted in February 2020. From this, Guyana got some $11.4 billion. Guyana's oil revenue is being banked in the US Federal Reserve, where it is earning interest.
Exxon also has the Liza Phase 2 Development, for which development drilling is slated to soon start. The development will see six drill centres being set up, along with approximately 30 wells – 15 production, nine water injection and six gas injection wells. At the time, former Department of Energy Head, Dr Mark Bynoe had said that Exxon's approval to pursue the project was subject to a number of conditions and confirmatory studies.
These include the establishment of a Regional Capping Stack or other solution to ensure that a Capping Stack can be deployed within five days of a well control event with loss of containment; improving the targeted availability of the overall production system of the Liza Phase 2 FPSO to between 98 per cent and 99 per cent, and identifying potential cost savings synergies between Liza Phase 1 and Lisa Phase 2.
Only recently, Chief Executive Officer (CEO) of Hess Corporation, John Hess said the company continues to see billions more barrels of future exploration potential remaining, apart from the nine billion barrels already discovered in Guyana.
He added that "Guyana becomes a significant cash engine as multiple phases of low-cost oil developments come online, which we believe will drive our company's breakeven price to under US$40 per barrel Brent and provide industry-leading cash flow growth over the course of the decade."
"Our strategy has been – and continues to be – to grow our resource base, have a low cost of supply and sustain cash flow growth…our differentiated portfolio is balanced between short-cycle and long-cycle assets, with our focus on the best rocks for the best returns…the Bakken, deepwater Gulf of Mexico and Southeast Asia are our cash engines and Guyana is our growth engine," the CEO declared.
Pointing to the preservation of the long-term value of Hess's assets and Guyana – with its low cost of supply and industry-leading financial returns, Hess emphasised that this remains the company's top priority.
Nevertheless, the company continues to see the potential for at least five Floating Production, Storage and Offloading (FPSO) vessels to produce more than 750,000 gross barrels of oil per day by 2026 – and longer-term for up to 10 FPSOs to develop the current discovered recoverable resource base.
Hess noted that the company will continue to invest in an active exploration and appraisal programme in Guyana in 2021, with 12 to 15 wells planned for the block.