…says rise in infections triggering increased hospitalisation rate
Active infections from the coronavirus disease are saturated within Georgetown, with health authorities monitoring some 409 positives within various communities.
Health Minister, Dr Frank Anthony on Monday highlighted the alarming trend of rising positives within the capital city. The 400 active cases, he noted, are divided into hotspots but there is also a general distribution of positives across Georgetown.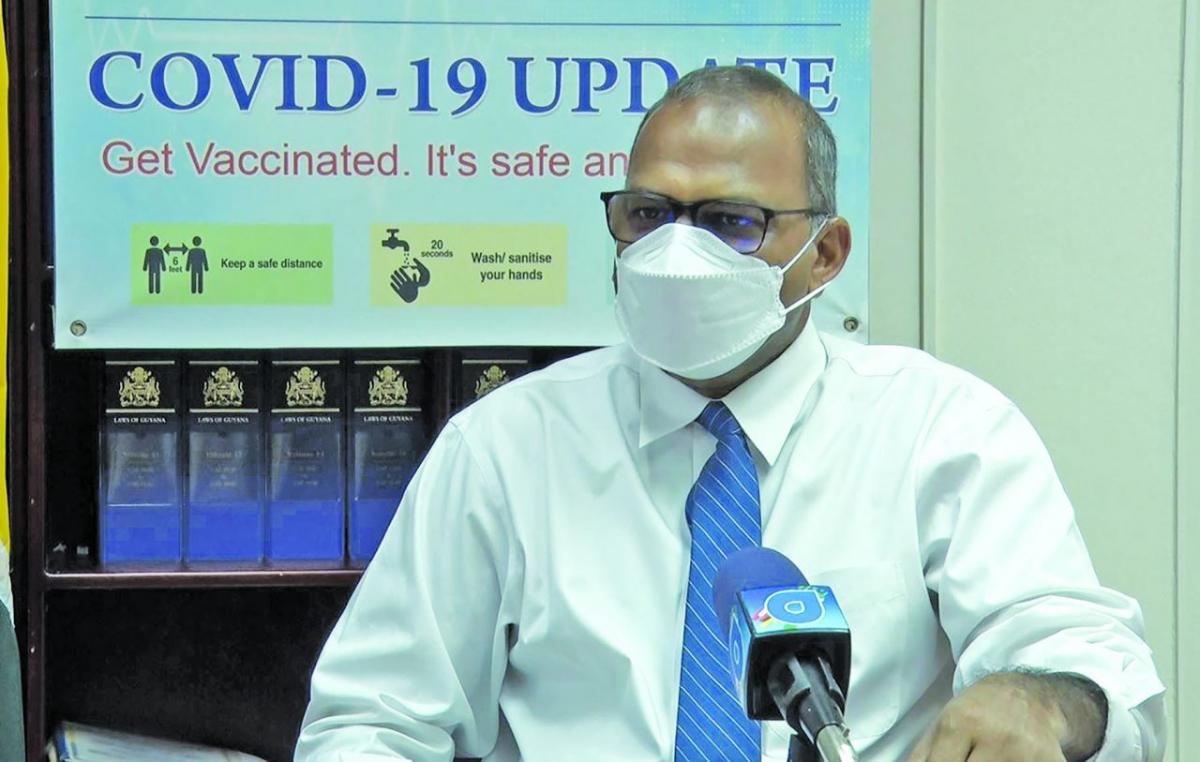 In and around Georgetown, there are now have 409 cases. "That's quite a lot and when you disaggregate it, you see places like Campbellville having about 37 cases, Sophia with 37 cases, Kitty with 29 cases but almost every ward in Georgetown, we have cases that are active. So, if people are not going to adhere to the measures, we are going to see a significant increase in these cases," the Health Minister said on Monday.
Recently, the surge in cases have led authorities to conclude that there are more infectious variants circulating locally.
Tuschen in Region Three (Essequibo Islands-West Demerara) is still a hotspot with about 35 active cases; while La Parfaite Harmonie has 23. On the East Bank Demerara, Region Four (Demerara-Mahaica), there are now 50 cases in Diamond; 44 in Grove and 28 in Timehri. Over on the East Coast, there are 28 cases in Better Hope; 22 in Enmore and 21 in Mahaica.
For Region Six (East Berbice-Corentyne), New Amsterdam has 27 active cases; while Bartica in Region Seven (Cuyuni-Mazaruni) has 41.
"Over the last week or so, we have seen an increase in cases. On a daily basis, we're getting on average maybe more than 100 cases and that's a worrying trend. From all the clinical parameters that we're seeing, it might be the new variants that are circulating and apart from the increase in cases, we have also seen an increase in hospitalisation," he outlined.
Increased hospitalisation
Guyana's active cases have now surpassed 1900. Dr Anthony pointed out that the rise in daily infections is triggering an increased hospitalisation rate, with the numbers in the Intensive Care Unit (ICU) doubling in recent time.
"Right now, we have 1910 active cases across the country and in terms of hospitalisation, we have 104 persons who have been hospitalised. At Ocean View, we have 78 persons in the hospital right now and we have 26 persons in the ICU. You can see within a very short period of time; our ICU numbers have moved from about 12 right up to 26. This is showing that people are getting infected but they're getting a more severe form of the infection."
Once a person becomes infective, they are required to isolate until recovery. Otherwise, it could effectuate a bigger spike in the country, and thereby overwhelming the health system. However, officials are still pleading with persons to get inoculated against the virus.
"One of the best ways that you can protect yourself is by getting vaccinated…If these people are not isolating themselves and they're not wearing masks, not protecting others, a lot more people can become infected," the health official cautioned.
It was reported that over 800 new positives were reported by Health Ministry last week, coupled with 16 fatalities. Last week, the Health Minister had emphasised that rising cases could be linked to the circulation of a more infectious variant in the country. While no genomic sequencing has been conducted to definitively indicate the presence of a more infectious variant, he indicated that it is highly likely. (G12)