The Pan Caribbean Partnership against HIV and AIDS (PANCAP) has formed a partnership with the Knowledge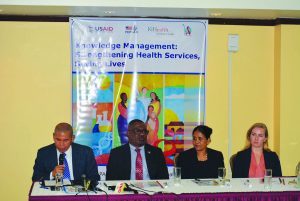 for Health (K4Health) Project to significantly enhance the capacity of the PANCAP Coordinating Unit to deal with HIV/AIDS.
The K4Health Project, based in Baltimore, USA, is funded by the US Agency for International Development Bureau.
According to PANCAP's Director, Dereck Springer, the new partnership is to assist the Partnership with transforming the way in which knowledge management and sharing is facilitated among its member countries.
"Study evidence shows that the earlier persons living with HIV start anti-retroviral treatment, they have better health outcomes," Springer relayed.
He noted, however, that much went into attaining resources to enable persons to be diagnosed early.
"However, to achieve this paradigm shift, the resources required for diagnostics and treatment, staff education, and clear and consistent public messaging about the benefits of "Test and Start" must be understood by health and other key decision makers," Springer said.
However, the K4Health Project will assist with packaging and sharing vital information necessary for PANCAP members to begin the process of educating healthcare workers and the public about commencing treatment immediately after an HIV positive diagnosis.
Knowledge Management Advisor, K4Health Project, Sarah Fohl, noted that the goal is to bring PANCAP partners together to share best practices and improve access to information, which is vital to HIV testing and early treatment.
"Our overarching aim is to support the PANCAP Coordinating Unit's mandate to demonstrate PANCAP's value in contributing to a regional HIV response. We believe that through enhanced knowledge generation, sharing and learning among PANCAP members, we can effectively support the scale-up of "Test and Start" in the Caribbean Region."
Public Health Minister, Dr George Norton welcomed the collaboration and noted that this would benefit Guyanese.
"PANCAP, as you know, is vibrant for partnership in the Region of approximately 29 countries and 70 partners mandated to coordinate the HIV response and the helm of the regional response," Norton explained.
He noted that with the wealth of knowledge that PANCAP has garnered over the years, he was confident that the organisation would be successful in ending the AIDS epidemic.
The Minister said, "With 15 years of experience, knowledge and celebrated globally as a regional best practice, it is my firm belief that PANCAP is strategically positioned to lead our Region toward ending the AIDS epidemic by 2030."
Dr Shanti Singh-Anthony, who was also present at the event, welcomed the collaboration between the two organisations.