By Brandon Corlette
The West Indies seam bowling attack is being led by the accurate and highly skilled Kemar Roach and features "Mr. Accuracy", Jason Holder; the aggressive Shannon Gabriel, and the promising Alzarri Joseph, who has been the talk of the town.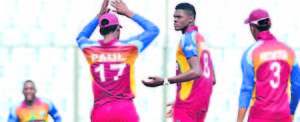 These pacemen are considered to be one of the better bowling attacks in Test cricket currently. However, the man who moves the ball more than these four is Guyanese Keemo Paul, who opted out of the tour owing to health and family concerns.
Equipped with the skill of swing and seam, Paul will be missed on this England Test tour. Responding to a Guyana Times Sport question, Joseph noted that Paul will be missed.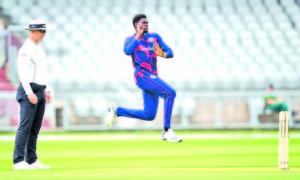 "Keemo is an addition to any team. He will be missed, but at this very moment he decided not to come, so we have to make do with what we have. We have more than capable players to put out a strong team," Joseph posited on his former West Indies U-19 team mate.
The 23-year-old Joseph, who played Under-19 World Cup with Paul back in 2016, had the opportunity to tour England back in 2017, but had had a challenging tour during that period. Joseph has since evolved into a stronger bowler in recent times, and this was evident in the recent practice match, wherein he had a good outing in claiming four wickets.
Joseph noted that experience played a role in his success.
While emphasising consistency, he believes that his role is to back up the senior bowlers in the squad, penetrate the middle order, and hold one end for the team. Before West Indies play the first Test on July 8, they will conclude their final match preparation with a 4-day intra-squad match from June 29.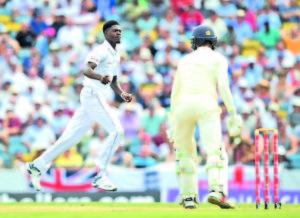 Joseph, who played in the series against England in the Caribbean last year, and peppered the Englishmen with some body-line bowling, noted it is time for the bowlers to assess the different conditions that obtain in England.
While some teams would see Joseph as the weak point in the Windies' four-pronged pace attack, the key for Joseph is to take wickets in England, hitting a good area and extracting the seam movement on offer.
"I can use this (teams seeing me as the weak point) as an advantage for me to get on top of teams, because I know my capabilities," Joseph echoed.
The right-arm speedster has declared he is aiming to help the West Indies move higher in the rankings, if given the opportunity.
The Antigua native has looked to former West Indies quick Kenny Benjamin for advice, and has proven to be mentally fit after losing his mom in the home series against England. He disclosed that he remains strong and made memories on that day, while playing for the West Indies.
With the batting group being the weak link in the squad, Joseph, who had an opportunity to bowl against some of them in the first practice match, noted that the batsmen are equipped and capable to make strong batting statements.
This series will be played behind closed doors, and Joseph is unfazed at playing in an empty stadium. He noted that this is similar to the Regional 4-Day tournament in which stadiums are mostly empty.
This humble lad has nine Test matches under his belt, with 25 wickets to his name. He is yet to pick up his maiden Test five-for, but brings a lot to the proverbial party.