In light of the numerous celebratory activities slated for this festive season, Acting Police Commissioner, Nigel Hoppie is urging members of the public, who are operating vehicles and will be imbibing, to get a designated driver.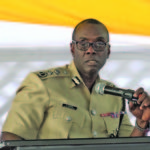 At the Guyana Police Force (GPF) Annual Trainees' Christmas Luncheon on Friday, he said that it is expected that many persons will participate in consuming alcoholic beverages at social events and activities that are being held to celebrate the Christmas season.
However, he pointed out that too many fatal accidents have occurred for this year already, specifically in the month of November, and, therefore, drivers on the roadways must take more caution during the festive season.
"In November, as you would have learnt in the media that we had 15 accidents which resulted in 21 deaths. Three of which were children and so as we go down for the remainder of the year we need to ensure that we be our brother's keeper."
According to the Acting Police Commissioner, if all drivers exercise diligence while operating vehicles and practice upholding the road regulations and laws then the country's roadways would not be claiming so many lives.
"While we conduct our business, we conduct a certain amount of responsibility and in our use of the road especially as drivers, we need to be cognisant of the five Cs. These are care, courtesy, caution, common sense and consideration….and we will certainly make our roads a better place towards the end of the year."
Less than three weeks ago, Traffic Chief, Superintendent Linden Isles had acknowledged that in Region Four (Demerara-Mahaica) – the East Bank Demerara Sub-Division (Region Four (B)) – special systems have to be put in place since this is a section where most of the serious accidents have been recorded.
"If you look at the statistics it would show that in 2018 we had 16 accidents with 24 deaths and in 2019 we had 17 accidents with 25 deaths. So special emphasis will be placed in that area. Also, we could look at Region Six (East Berbice-Corentyne) where we had 14 accidents with 14 deaths in 2018 and 15 accidents with 15 deaths in 2019."
However, the Traffic Chief noted that January 1 to November 10 of this year reveals that there has been a four per cent decrease in accidents and a six per cent decrease in deaths related to accidents comparative to the same period in 2018.
Road carnage
Just a few days ago, Opposition Leader Bharrat Jagdeo stated that the road carnage situation is not a political one in nature and recommended that all stakeholders should contribute towards finding a comprehensive solution.
"There is carnage on our roads and we have to find a way of stopping it. We don't have all the answers and I'm sure they don't too," he positioned.
He also asserted that those culpable must take responsibility for their actions. Meanwhile, Jagdeo clarified that if any political party promises to lower these statistics, it is untrue since a collective approach is required.
"It's a combination of education, strong regulations, taking tough actions and people have to take responsibility too. People have to take personal responsibility for these issues because sometimes, you have one crazy person. Any [political] party that says to you that they can stop this will be lying to you," he expressed.
His comments come in light of President David Granger's response to the increased carnage, outlining a three-point approach for road safety. Road users were urged to observe the Guyana Police Force's code of behaviour.
The caretaker President further pointed out that the "insane increase in road fatalities" was due to persons driving at excessive speeds, driving under the influence of alcohol, driving without due care and attention and driving on roads which are congested or unsafe for other road users, particularly pedestrians.