Prime Minister, Brigadier (Ret'd) Mark Phillips on Friday met with a team from the Jamaica National Group at his office on Camp Street.
During the discussion, the delegation, led by Norton Taylor, Chairman of Enviro-Tech, briefed the senior Government official on the company's agenda in Guyana, which includes investments in financial and technological services.
Prime Minister Phillips told the visiting delegation that Guyana welcomes interest from other Caribbean countries and encouraged the group to look at all available opportunities.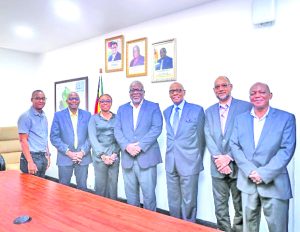 "This is a good time to talk about investments in Guyana and for Caribbean countries to invest in Guyana. What is happening in Guyana is not only for Guyana but it is a moment for Caricom," the Prime Minister noted.
General Manager of JN Money Service LTD, Horace Hines; Chief Investment Officer of Jamaica National Group, Curtis Martin; Chief Executive Officer of Enviro-Tech, Neil Taylor; Managing Director of Enviro-Tech, Caryn Ramsden and Eric Phillips were also at the meeting.
The Jamaica National Group comprises several world-leading entities which provide a wide array of financial, technology, creative, and fleet management services.
Only last month a Jamaican trade mission led by Jamaica's Minister of Industry, Investment, and Commerce, Senator Aubyn Hill visited Guyana and was part of the discussion on more areas of opportunity and collaboration.
The purpose of the initiative was to facilitate business-to-business networking through the establishment of linkages with companies from Jamaica.
Key meetings facilitated to address the Jamaican delegation were led by Vice President of Guyana, Bharrat Jagdeo; Chief Investment Officer of Guyana, Dr Peter Ramsaroop; and Foreign Affairs and International Cooperation Minister Hugh Todd.
Those sessions underscored the value of the visit and its impact on international cooperation and investment in Guyana's many sectoral industries.
There were also key addresses from Finance Minister, Dr Ashni Singh, while remarks also came from Public Works Minister Juan Edghill; and Tourism, Industry and Commerce Minister Oneidge Walrond.
The Guyana Manufacturing and Services Association (GMSA), Private Sector Commission (PSC), and the Georgetown Chamber of Commerce and Industry (GCCI) also addressed the delegation and organised B2B meetings for the delegation.