…as residents stage protest
Prime Minister Moses Nagamootoo on Friday visited residents of Berbice who were earlier this month devastated after a freak storm damaged several houses at Bath Settlement, West Coast Berbice (WCB). He promised them relief.
However, as the Prime Minister entered the village, he was confronted with a group of protestors protesting the Government's position on the sugar industry and what they described as failed promises to residents of Berbice.
Meanwhile, Nagamootoo met with the residents and informed them that the Civil Defence Commission (CDC) is making arrangements for assistance to be given those affected.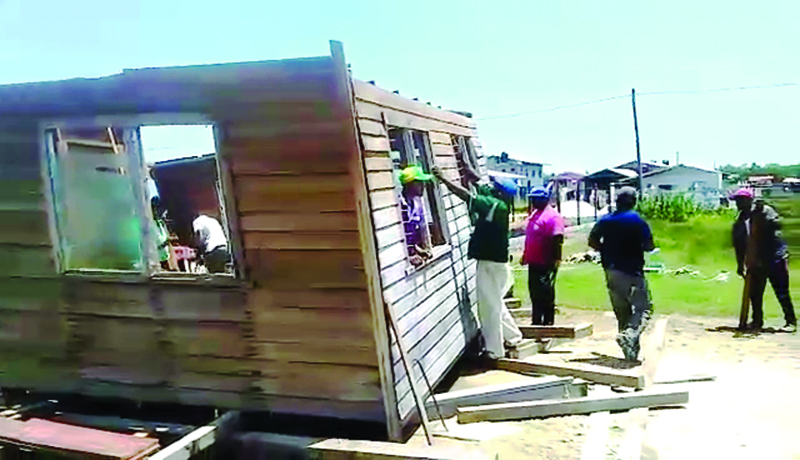 "The CDC will go around and ask contractors and businessmen to help. This is the time when the carpenters and the contractors have to come forward to help the community," the Prime Minister explained to the residents.
Speaking with reporters after the meeting with residents, Nagamootoo said it was the CDC that requested his presence and also the presence of several representatives from the Region's administration to be a part of the visiting team, which he eagerly accepted.
According to the Prime Minister, there is an eagerness coming from the Guyanese population to assist — something he is pleased about.
During Friday's visit to the village, several items, which include blankets, were distributed to victims by the CDC.
Nagamootoo noted that similar efforts are being made to reach out to storm victims in Region Eight (Potaro-Siparuni) and Region Ten (Upper Demerara/Upper Berbice).
Presently, efforts are being made also by the CDC to assist countries affected by the hurricanes. A planeload of foodstuff, medication and water has already been shipped, while efforts are being made to airlift larger quantities, and in the long-term sending building material by sea.